It's no question: 2018 is the year of the woman. From feminist movements like #metoo to groundbreaking organizations like Time's Up, gender equality feels like more of a reality than ever before, and we say: It's about time!
From world-class entrepreneurs to indispensible digital marketers, this is the place to learn about women who are truly transforming their industries and taking wide steps toward closing the gender gap. On this International Women's Day, take some time to check out these incredible ladies and support the great work they're doing every day.
Inspired by this list of rockstar women? Learn how to increase profits in your own ecommerce business today.

Profiles of Female Ecommerce Stars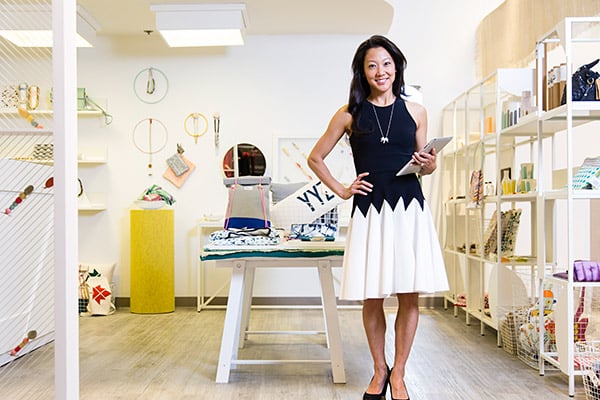 Jen Lee Koss: Brika
This Harvard graduate was working in finance when she stumbled upon Kena Paranjape's lifestyle blog and had an idea. The two joined forces and founded Brika, a hub for over 400 carefully selected artisans to showcase their crafts. Jen tells us that the most important thing in running a brand is not necessarily being the most innovative or cutting edge, but creating an excellent product:
"It's not about doing something totally different," Jen insists. "It's about sticking to your guns and doing it well."
Read Jen's profile "Handmade With Love."
----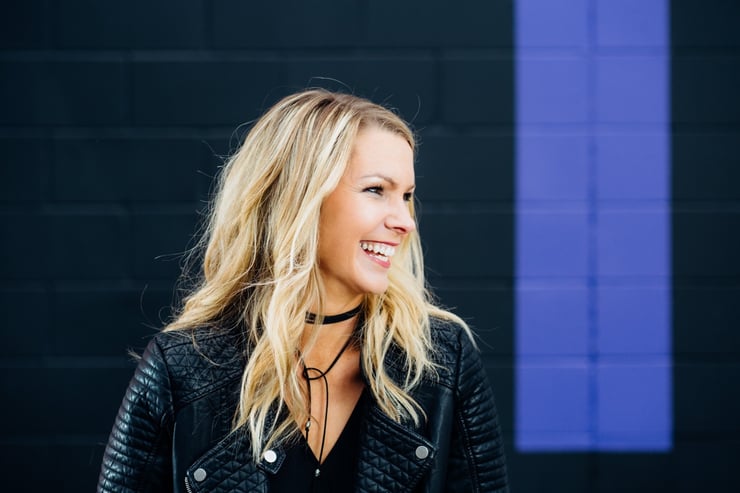 Ashley Alderson: The Boutique Hub
Ashley describes her entrepreneurial mission as "changing lives and communities." She's undoubtedly done that with her one-of-a-kind platform connecting local boutiques with customers and helping founders get the resources and training they need to serve the women in their communities. Ashley teaches boutique owners to prioritize an authentic customer experience, both on and offline:
"For a boutique to be successful in the ecommerce landscape, they still have to somehow provide that personal experience and authenticity to the consumer."
Read Ashley's profile "The Boutique Hub Founder on Her Platform Dedicated to Empowering Small Business Owners."

----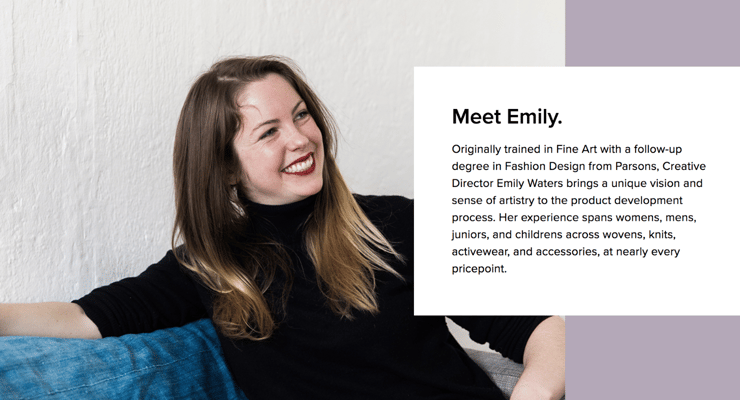 Photo Credit: Jen Rudy
Emily Waters: Emily Waters Design Studio
This illustrator-turned-fashion designer has decided to use her talents to bring the visions of others to fruition. By working as a design consultant, Emily helps fashion startup founders bring their first line to market. Her advice to would-be fashion entrepreneurs? Be extra careful when selecting a product designer to help you launch your new line:
"Just because someone is a fashion designer, doesn't mean they're right for helping you launch a new product that doesn't exist yet or for which you have no infrastructure," she warns.
Read Emily's profile "A Fashion Product Designer Talks Shop."
----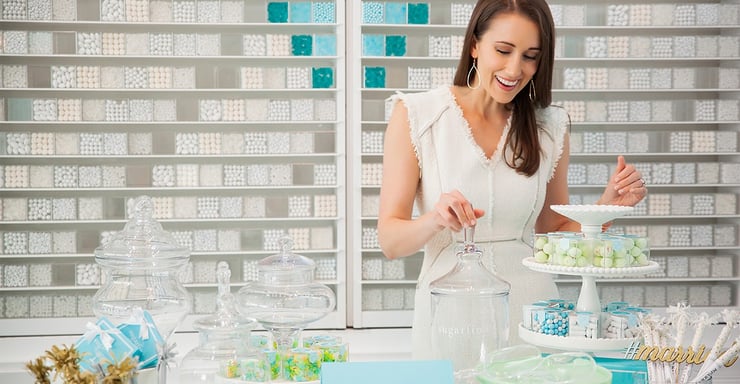 Photo Credit: Vanessa Tierney
Rosie O'Neill: Sugarfina
Have you ever wondered why there wasn't a candy store for adults? You must not have heard of Sugarfina, the first sugar-laden wonderland designed exclusively for those of us in our post-adolescent years. Rosie O'Neille founded Sugarfina with her fiancé, and the story of their blossoming love giving way to a blossoming business is unlike any other. Her experience in marketing taught her to prioritize delectably photographable spaces:
"I always say, 'you eat with your eyes first.' And so, in order for people to really have that full experience, it has to be visually delightful in addition to tasting really amazing."
Read Rosie's profile "An Adult In A Candy Store."

----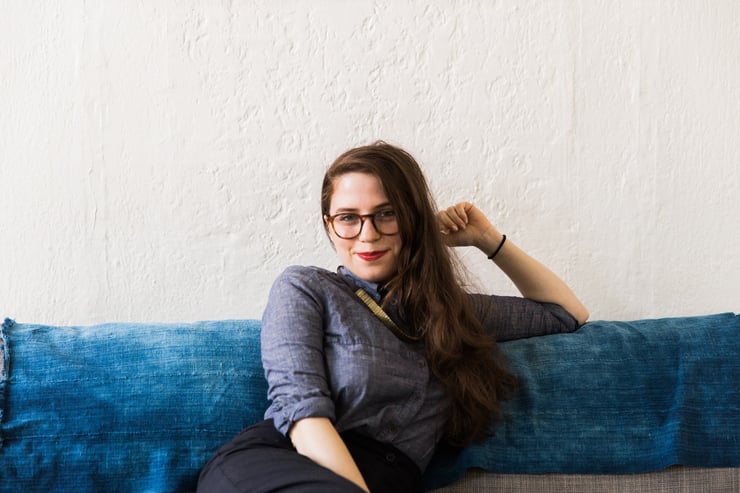 Photo Credit: Jen Rudy
Erika Valazquez Alpern: Tactile
Through hosting dinners for female executives, Erika discovered that there was a palpable need for marketing consultants focused on female entrepreneurs. Thus, she founded Tactile, dedicated to advancing and celebrating women and people of color. After working with everyone from big name brands to scrappy startups, she advises young entrepreneurs to get specific with their marketing strategy:
"My advice is always that you can't do everything and you shouldn't do everything, so I think it's about getting really specific about where you want to dedicate your resources so that you can get the most out of them."
Read Erika's profile "A Marketing Consultancy Geared Toward Supporting Female Business Founders."
----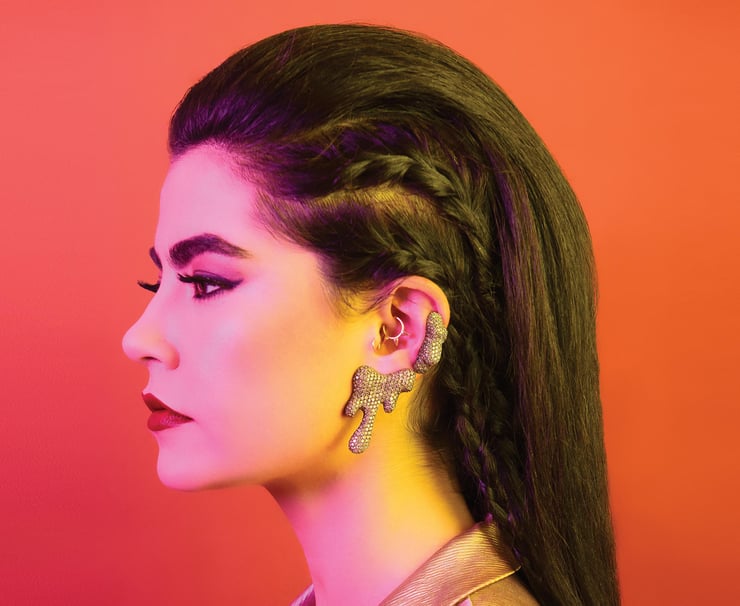 Nadine Ghosn: Nadine Ghosn Fine Jewelry
A story of a daring entrepreneur who made her mark in the fine jewelry industry by combining her industry smarts and connections to craftsmen with a funky style all her own. Nadine's bejeweled hamburger rings have become a favorite among celebrities, and her eclectic and original style is one that is sure to inspire anyone to throw down some cash for a food-inspired charm. It was a trip to Lebanon that first inspired her to dive into the industry:
"I ended up being in a jewelry store speaking with the owner," Nadine recalls, "And he told me that a lot of Lebanese craftsmen were being lost, specifically because there is very little demand for hand labor. And these are people who had been working for the past 20-30 years at their craft."
Read Nadine's profile "Jewelry Designer Nadine Ghosn on Building Her Delightfully Quirky Brand."
----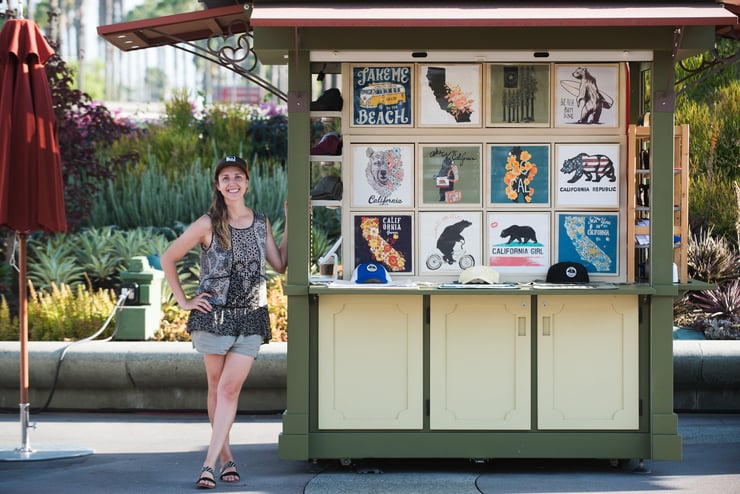 Elaina Millar: California Limited
Her tenure working in social media at Paramount, Sony, and Sevenly set Elaina on track to set up her own ecommerce business celebrating her home state through T-shirts. Adopting a multi-channel approach mixed with a brick and mortar kiosk at Disney helped CA Limited achieve great heights. Incredibly, at least by startup standards, CA Limited has always been cash positive, family owned, and debt free:
"I'm just super happy at the numbers we're at," says Elaina. "I guess if I did take out a loan or line of credit, it would go into FB ads so that I could scale higher. But it's completely self-sustainable in an ecosystem that takes care of itself."
Read Elaina's profile "Her Philosophy: Build Your Audience and the Sales Will Come."
----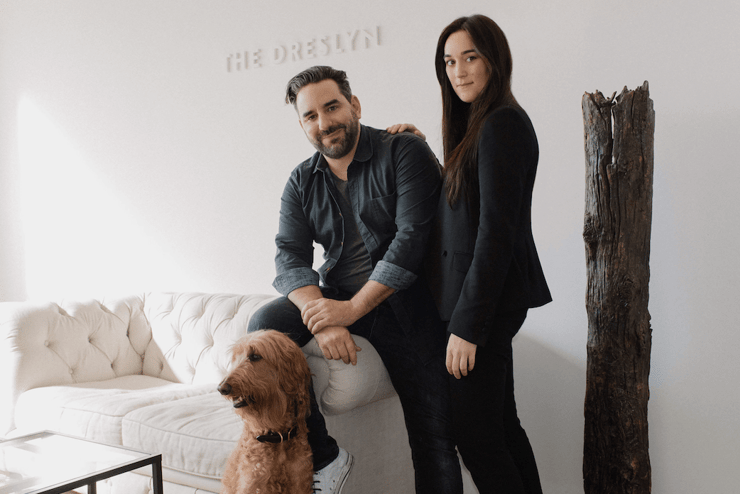 Brooke Taylor Corcia: The Dreslyn
Brooke knew she wanted to found her own business when she noticed the gap in the market of LA fashion. "I felt like there was something else to speak to that was a little more understated, a little more classic, not so sex driven, and a bit more casual," she says. Shortly thereafter, The Dreslyn, an online store for apparel, accessories, bags, shoes, home goods, and cosmetics, was born. Who is their ideal customer?
"I definitely think it's for a woman who is confident and knows herself," Brook asserts.
Read Brooke's profile "The Dreslyn Founders Create a Luxury Fashion Voice, Rooted in Distinction and Values."
----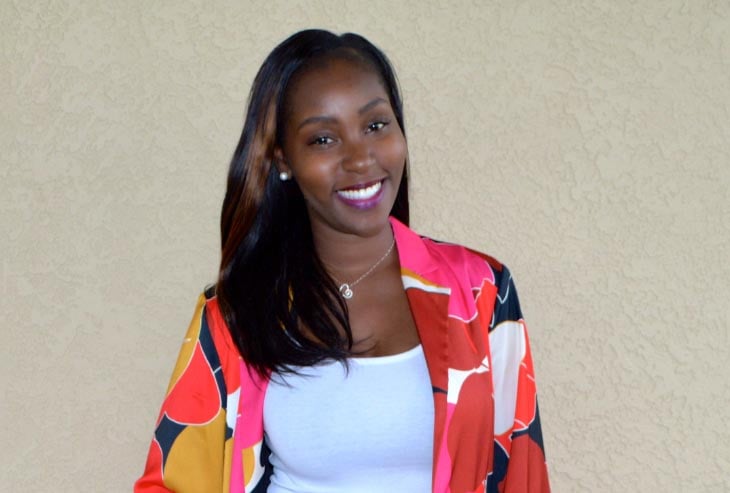 Ericka Perry: The Stork Bag
The Stork Bag is a subscription-based company designed for women at all stages of their pregnancy. From your first trimester up to your postpartum months, they will send you quality, pregnancy-related goods directly to your door. Ericka Perry, herself a mom of three, started the business all on her own, and grew it into a booming business with an all-mom team behind it and an empowering objective driving the growth:
"The vision I had for the Stork Bag was to promote and encourage female entrepreneurship and serving a market that means so much to me."
Read Ericka's profile "The Stork Bag Founder Ericka Perry on Shipping Mom-to-be Gifts To Your Door."

----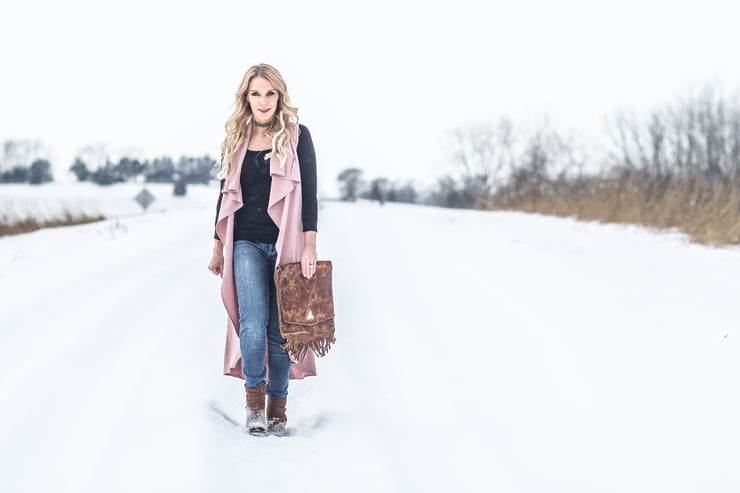 Laura Benson: Filly Flair
It's been seven years since Laura started Filly Flair, an online boutique with a variety of stylish yet casual options for the contemporary woman. Laura enlightens us here on the delights and struggles of running an ecommerce business and sheds some light on what might be next for Filly Flair:
"I have a lot of big picture things that I want to do" Laura says. "And I get it now, something has clicked."
Read Laura's profile "A Flair For Ecommerce."
----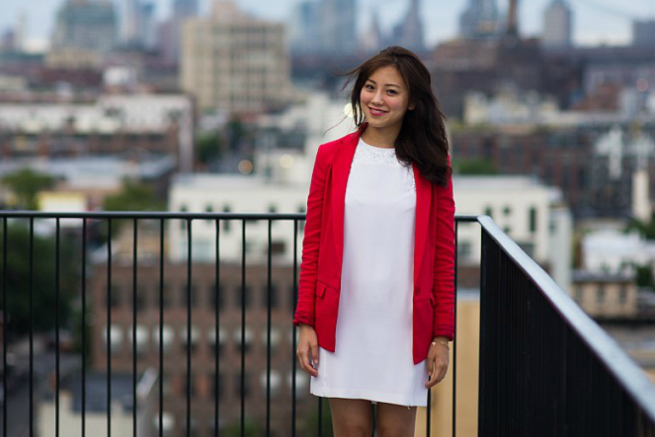 Tiffany Lin: Marketing Consultant and Entrepreneur
With a career spanning managing positions at McKinsey, Gilt, and Cover FX, it's no wonder this lady has taken the digital marketing world by storm. Tiffany fell in love with Ecommerce early, and has now embarked on the new challenge of founding her very own startup. Tips from a marketing guru, anyone?
"Take the time to research and learn about your audience. Don't compare yourself to other boutiques; every brand/style/business owner is different."
Read Tiffany's profile "The Secrets to Effective Ecommerce From Gilt and Cover FX's Ecommerce Guru."
----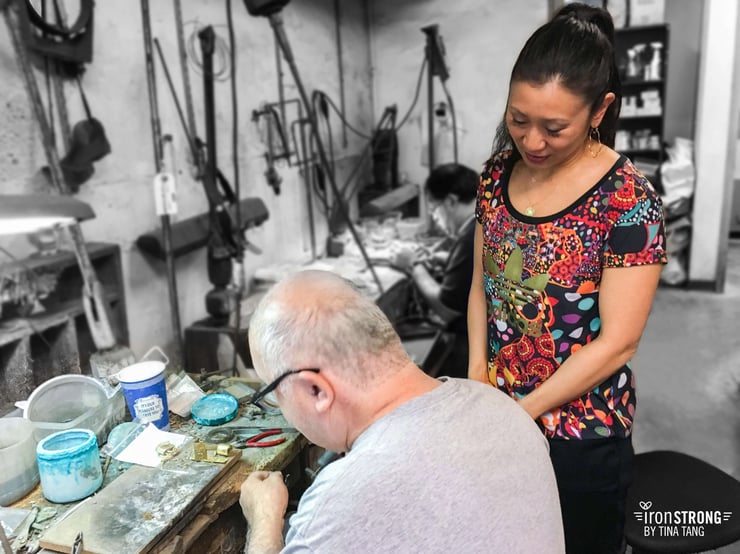 Tina Tang: Heavy-lifting Jewelry Designer
Tina Tang combined her love of personal training with her skill and passion for jewelry design and founded Iron Strong Jewelry, an ecommerce shop dedicated to celebrating those hard-to-reach fitness achievements. Part of the fun of the job is getting to be your own boss, says Tina:
"After working for myself, I just couldn't go back to working for someone else. There's this satisfaction to creating your own product – and not just creating your own business, it's treating your employees the way you want to be treated, it's creating an environment that is pleasant for everyone to go to."
Read Tina's profile "An Ecommerce Store For Heavy Lifters."
----
Looking for even more ladies making a splash in the ecommerce world? Check out the articles below for a peek at some of the most inspiring women in the field!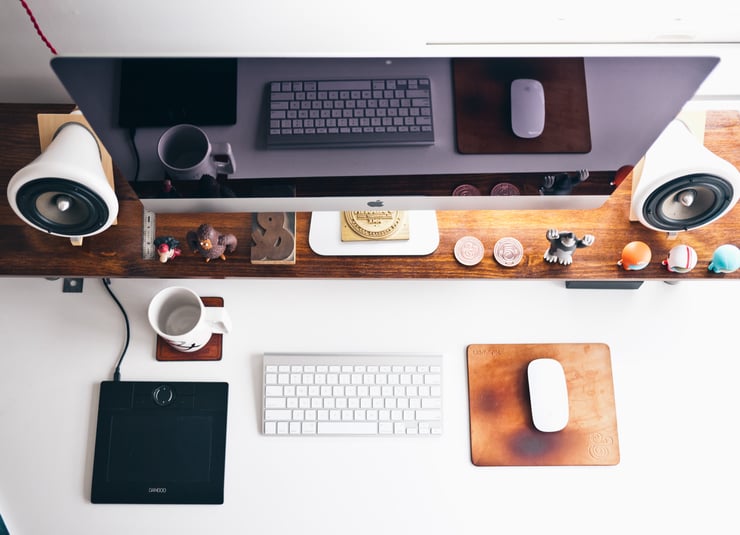 Have you ever wanted to start your own company but lacked the courage to dive in head first? Then read through this list of six incredible business owners who have trail-blazed their way to the top. Take Aubrie Pagano, for example, who founded the customizable garment company Bow and Drape for women craving something more from the clothing industry.
Then there's the incredible Orix Hashay, founder of Brayola, who is reshaping the bra-buying experience for women across the country (thank God!). And what list would be complete without an appearance by Shea Durfey, founder of Shea Baby Boots and Shea Michelle Buckle Designs.
----




Photo Credit: Kira auf der Heide
Christmas may be far behind us, but these ecommerce stores operate year-round, so why not support women in the industry by purchasing a gift before the holiday season begins? One great option is Bulletin led by Ali Kriegsman, providing online, female-owned brands with a physical space to showcase their goods, with 10% of proceeds being donated back to Planned Parenthood.
More of a sports fan than a hard-core feminist? Then head to ShooWin, your one-stop-shop for affordable tickets run by entrepreneur Brisa Trinchero. And for the perfect gift for that special person, check out Outgift, headed up by passionate gift-giver Alice Kittrell. Read on for more!
----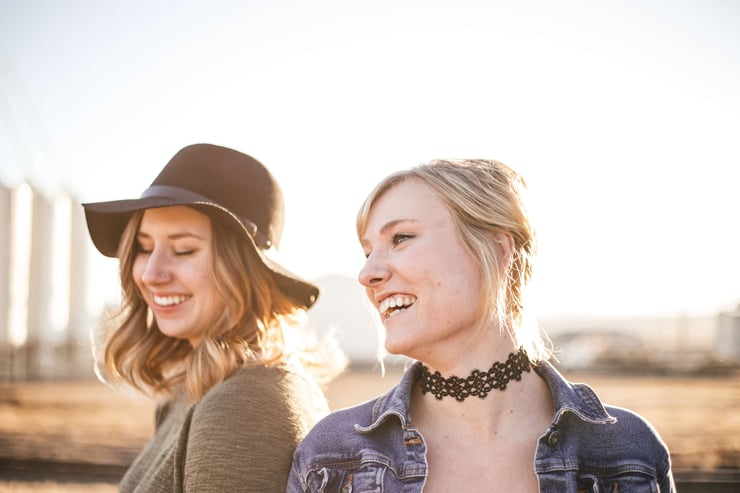 Here's a list of seven fantastic women who are transforming the world of ecommerce every day. There's Anastasia Wegbreit, founder of Build RX, for whom a new and exciting challenge is the reason to get out of bed in the morning. Or Cristina Vercler of Verclare Boutique located in the heart of Illinois, featuring stylish yet practical clothing at an affordable price point.
Danielle Schlowow of Multiplica continues to wow us with her expertise in analytics, while Meganne Wecker brings the family tradition of furniture making to the digital age with Skyline Furniture.