Remember the pure bliss of your first trip to a candy store as a child? The sparkling, sugar-coated gummies, the fragrant milk chocolates, the lollipops lined up like soldiers along the wall ready to be plucked from their perch and savored until the very last lick: there was truly nothing like it. Adulthood brings many sorrows with it, not least of them forfeiting access to the forbidden fruits of childhood delights, like the rare trip to the sugar-laden garden of eden.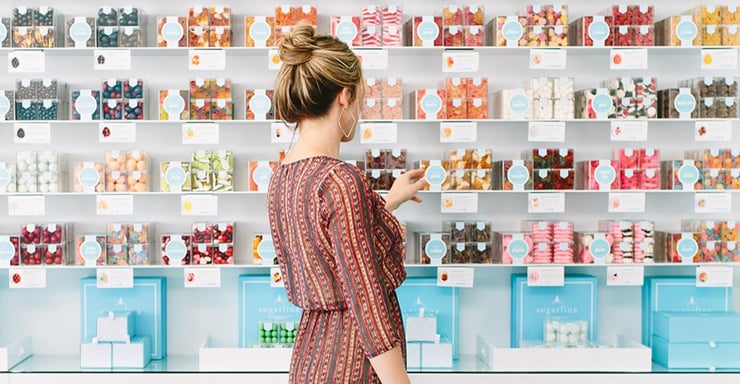 But why should kids have all the fun? Why not build a candy store made for adults? Ruminating over these questions became a beloved pastime for couple Rosie O'Neill and Josh Resnick. As their romance continued to blossom, so did their idea, until in 2012 they launched Sugarfina, a luxury candy shop for grown-ups. With champagne gummy bears, super sour vegan hearts, and limoncello cordial chocolates, this high-end candy is a dream for anyone looking to awaken their inner child while enjoying all the pleasures of a boutique experience.
Rosie herself wasn't an entrepreneur by trade, having spent seven years at Barbie as Director of Marketing. But towards the end of her seventh year at Mattel, she met Josh, who had cut his teeth in entrepreneurship as founder of Pandemic Studios. The romance would change their lives in ways neither of them would have dreamed.
"Josh took me on this really cute date to see Willy Wonka and the Chocolate Factory and at the end of that movie, we started to brainstorm: Why aren't there any candy stores for adults, why are they only for kids? Where is the candy store that offers a really beautiful experience with really high-quality candies? Nothing like that existed at the time. We started collecting candies and meeting with candymakers: it really just started it as a hobby business. And then at some point in 2012, we decided to quit our day jobs and give this a shot."
The idea took off quickly. They initially launched with an online Shopify store, intent on learning who their customer was, how to reach them, and what kinds of candies performed well. A year and three months later, they opened their first retail location in Beverly Hills to great success. Today, they have 50 retail locations across the country and a robust online presence. "I would be lying to you if I said we had any plan for the business," Rosie laughs. "It was one of those things that really just took on a life of its own."
Eating With Your Eyes
Sugarfina stores are known for their airy, boutique-style beauty, and this is not by accident. Rosie and Josh envisioned a candy store that was unlike any other, and wanted to give the customers that luxury, delighted feeling the minute they walked in.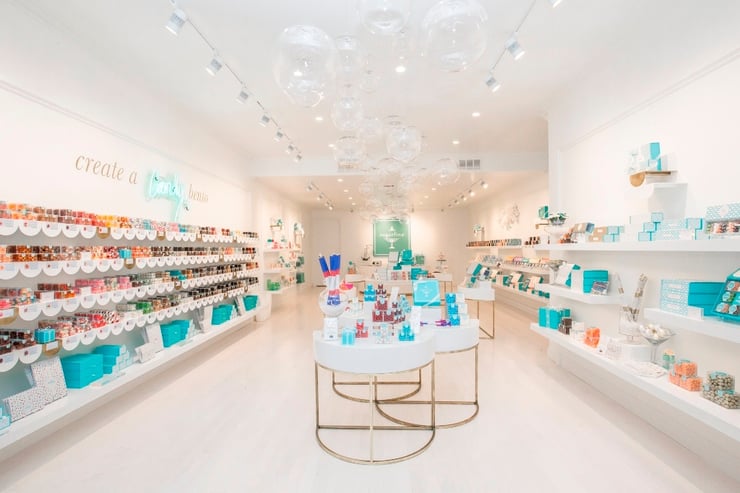 Part of this comes from the products themselves. Instead of standard bulk staples repackaged, the candies are exclusive Sugarfina lines made in collaboration with artisan candy-makers. Offering the customers that level of quality and taste while helping to revive the art of handcrafted candy is something Rosie and Josh took seriously from the start. While many retailers just want a lower price, Sugarfina proposes a partnership based on innovation, quality, and creativity. "I think goes to the soul of why they do this in the first place," Rosie muses. "We're keeping a lost tradition alive, and we're really proud of that."
However, creating that delectable, clickable eye candy of a brand was a result of lots of hard work, and good timing. 2013 was the year that Instagram started to become a household name, so Sugarfina poured their energy into creating social-media-ready spaces, Rosie tells us:
"I always say, 'you eat with your eyes first.' And so, in order for people to really have that full experience, it has to be visually delightful in addition to tasting really amazing. So, we designed our stores to be photogaraph-able and shareable."
This affected every decision, from the specific hue of white paint down to the packaging. The result? A delectable confectionary that feels almost Parisian in its daintiness and attention to detail while retaining hints of the quirky candy shop around the corner.
To replicate that boutique experience online proved a challenge for Sugarfina, and meant that they needed to invest some resources and creativity in aligning the digital brand with the physical one. Some changes there included offering their popular, customizable "Bento Box" to online customers, as well as some backend changes like migrating from Shopify to Magenta 2. "We're constantly looking at how to upgrade and making sure the branding is consistent," Rosie insists.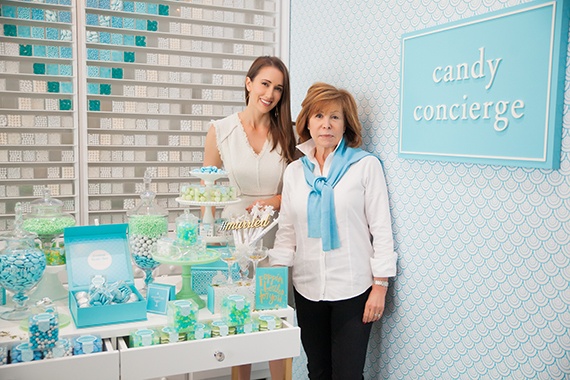 Their most important metric is conversion, which Rosie says helps them understand whether the experience they are providing their customers with an enjoyable experience. And with most of their customers being in their 20s and 30s, mobile conversion is something they're paying careful attention to. With the goal of giving their 14-15% of revenue from online sales a boost, Sugarfina has also transitioned from outsourcing development to having an in-house team.
The Work Is Never Done
From a venture that started out of Josh and Rosie's basement, Sugarfina has skyrocketed to success. The team of two has now expanded to a corporate team of 80.
"We could never do this without the amazing team we have in place," says Rosie. "I think the one things Josh and I are really good at is hiring people who are smarter than us. Our team is really the best at what we do and we're so lucky to have them."
How did Sugarfina manage such explosive growth?
"It's a really delicate balance, and Josh and I are really aware of the fact that a lot of startups get this wrong, and so we were just obsessed with getting the transition right. Because when you go from a startup to the size we are now, there's a lot of things that need to happen along the way but you also need to be protective of your culture."
Employing tools like Netsuite to streamline workflows, and making improvements on the tech side regarding shipping have helped with efficiency. At the same time, says Rosie, culture starts at the top, and she and Josh make sure that they are always modeling good leadership, prioritizing communication, and approaching their team as innovators.
But what's it like working with your romantic partner every day? While Rosie admits that it's certainly not for most couples, she says it has actually strengthened their relationship:
"For whatever reason, I think Josh and I are better couple because we work together. It just really forces us to have constant communication and a very mature way we interact with each other. Because you can't have fights and squabbles in front of your team, that creates a very unsettling environment! So it's really caused us to have a very mature relationship. And we spend so much time together is that we're very symbiotic at this point."
Apart from finding a great business and life partner, what advice does Sugarfina's founder have for those just starting out?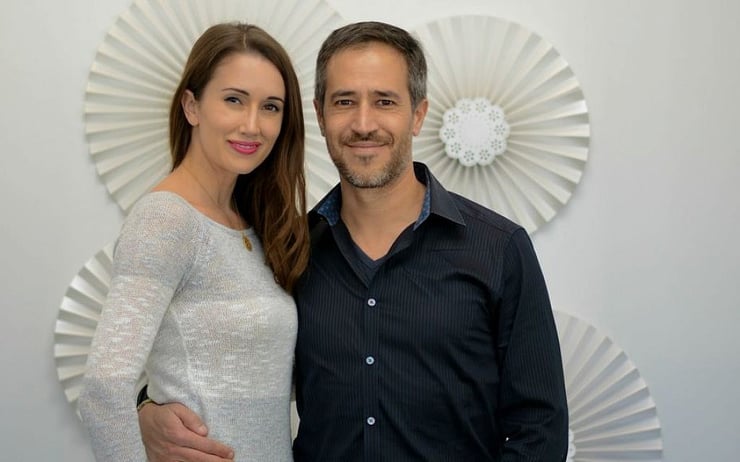 "Be absolutely obsessed with who your first customers are and get to know as much as you can about them. Leverage those customers to help spread the word. The cool thing about being a startup is that you'll find that a lot of people are really excited about being in the know and early adopters, and those people are really excited to spread the word."
Lots of things have surprised Rosie in her tenure as the head of a sugar empire, but nothing so much as the lack of a finite endpoint. "The work is never done!" she laughs. You will always, she reiterates, want to keep striving, optimizing, and improving.
"Once you start doing that and recognizing the impact the business can have, you never settle for anything. You're always looking at ways to optimize and push things forward. You'll never feel like you have a finished product."