On your first visit to RageOn.com, the first thing that will catch your eye is likely "Taco Cat T-Shirt", featuring a cuddly kitten holding a slice of pizza and a taco in her paws against the backdrop of a psychedelic, purple-hued solar system. Next to it, an oven-baked pepperoni pizza pattern covers every inch of an adult jumpsuit, while a lifelike ziplock bag full of marijuana makes for an excellent throw-pillow.
These wild creations are just some of the quirky merchandise on offer at RageOn!'s online store, renowned for its revolutionary, one-of-a-kind custom prints. But if you think the fun ends there, you're mistaken. RageOn! has developed a patent-pending, all-over-print technology that allows creators, brands, and artists to customize their own merchandise, from T-Shirts to socks to swim trunks. Simply snap a photo on your smartphone and upload it directly onto your merchandise using their handy app. And with the first-ever patent protection technology of its kind, brands and artists never have to worry about intellectual property theft, and can expect money on their account every time their IP is used.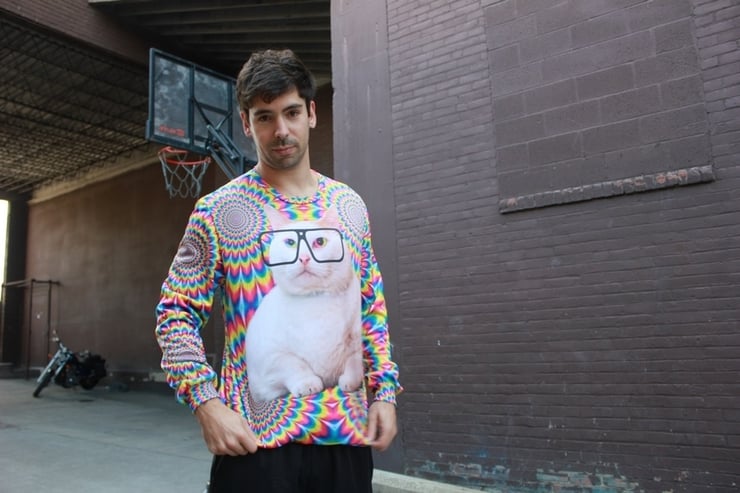 'How is this all possible?' you might ask. Well, founder and CEO Mike Krilivsky has proved himself a pro at mastering the impossible, and has built a multimillion dollar enterprise on grit, determination, and one priceless motto that encapsulates it all: 'Let's rage!'
A Brush With Death
Mike already had an entrepreneur's spirit from a young age. A guitar player in several bands throughout high school, he moved to start a record label to help his groups get more gigs.
After studying computer science and business management at UConn, he headed to Boston to start a new record label. "I teamed up with the coolest guys in Boston," Mike recalls. "One was a the coolest DJ in town and the other was just a guy that got along with everyone, and we started the largest dance party company in New England." 'Let's rage' was his party anthem, encouraging people to let loose and have a good time.
Not long after, the company was selling out 10,000- to 20,000-person arenas featuring some of the most exciting acts in the world. Mike's team was responsible for breaking Dayglow into New England, which later earned them a $300 million exit with SFX. Success in the entertainment industry allowed him to cut his teeth in investing with Facebook and Shopify when they were smaller, lesser-known ventures.
Then Mike had a life-changing event. As he tells it: "I died in a car accident and came back to life."
Coming up to the brink of death and suffering through amnesia gave Mike a new lease on life.
"My phrase 'let's rage' now meant to celebrate the fact that you're alive," he muses. "This is what keeps me grinding to this day. I saw the other side and there wasn't much over there, so I was like, 'man, you gotta do it up!'"
Mike spent the next two years traveling the country spreading his empowering message and encouraging people to celebrate the very fact that they're alive. As a small reminder to his following, he began selling screen-printed T-Shirts with the phrase "Let's Rage" screen printed on them. This small merchandising venture would soon spark an idea that would revolutionize the industry.
Spreading the Word, One T-Shirt at a Time
As demand for his T-Shirt spiked, Mike soon realized that buying screen printed shirts in bulk wasn't so practical from a business standpoint. You need to purchase a lot of stock at a time, and never know if you'll really sell all. Plus, with screen printing, costs go up the more colors you add, and you're essentially limited to the front and back of the T-Shirt. Mike wanted to print on all kinds of garments, across every inch of the fabric - from hoodies to cuffs:
"Basically I wanted to make an all-over printed product, one at a time when an order comes in, at a cost-efficient price point. So, I had meetings with folks from around the world, and everyone said I was crazy."
No one in the industry would give him the time of day, insisting that bulk ordering was the only way to go. Finally, a Boston printing company agreed to the deal, but the business soon outgrew the small operation, forcing Mike to look for another solution. He finally called up the CEO of a printing company that had been working with his record label for the past eight years. The CEO, impressed with Mike's vision, took a leap of faith (and a meeting). After six days of negotiating, they decided to move forward. So, Mike headed home for Christmas dinner to tell his family that a week later he would be moving to Cleveland to create the "world's largest all-over-print online store."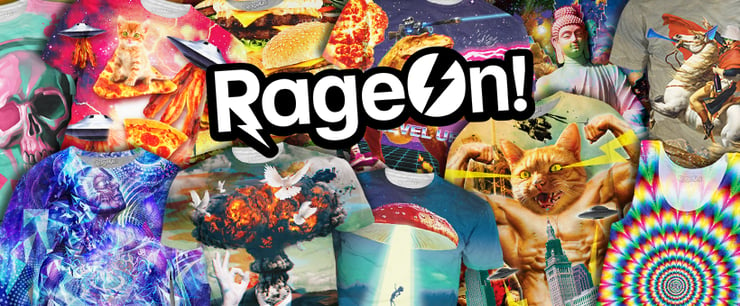 Scaling and Accelerating
From Cleveland, things picked up fast, says Mike.
"We quickly scaled to a multi-million dollar business selling all-over printed T-shirts and sweatshirts, one at a time, in a very green manner. These products will never crack, peel, fade or wrinkle: they're awesome."
The trend caught on and others soon wanted to make their own all-over-printed garments, too. So, in 2014 the company decided to develop their own custom-creation technology and patent it, so that businesses and artists alike could produce their own unique designs.
While this technology was in development, Mike was introduced through a friend to Ravi Belani, a professor at Stanford and the founder of the Alchemist Accelerator program.
"Ravi had a skype call with me," Mike recalls. "He said 'Mike, I think your vision to empower the creators of the world, to let them create and sell their stuff instantly, is incredible. I think you're the guy to do this. Come out here to Silicon Valley and build a billion dollar business. And be here next week.'" Although Mike was reticent at first, he realized that he could build his tech faster and spend more on marketing while creating higher barriers of entry. So, he packed his bags for California.
"Thank God I went," he says. "It literally changed my life. There is a whole different way to view things, way to do things, and there are very very smart, incredible people here. You can just feed off that energy. So, we built a team of guys from Pintrest, Microsoft, Salesforce, Apple, Uber, and Google."
Together, the new team built a marketplace version of RageOn! and got some of the top talent brokers in the world, who in turn got them deals with some of the biggest names in ecommerce and entertainment, including Kiss, Hello Kitty, Lisa Frank, and Netflix, just to name a few. Have you seen T-mobile commercial featuring the pink onesies? "Yep, those are from RageOn!," laughs Mike.
Tackling Intellectual Property
Several years into the project, however, Mike and his team noticed a problem. The ease with which users could create customized products had, perhaps unsurprisingly, led to a good deal of theft. Mike likens this to the heyday of Napster, who fully disrupted the music industry in the early 2000s by enabling the free downloading and sharing of music, causing record sales to plummet. A similar thing had happened with ecommerce platforms, Mike explains. "Out of $700 billion dollars per year of branded apparel and home goods, $100 billion of that is theft," he notes. "Just blatant stealing of intellectual property." Always one to rise to a challenge, Mike decided to dive in.
"We looked at Spotify's model and said, 'the main problem is the sellers, so we need to give the sellers a better alternative. So we said, let's go out and get all the licences and say, 'Hey, we can make awesome merch with you and then we can let people sell it.' So, we built and online portal, a Shopify app called RageOn Connect that allows over 500,000 stories to connect in sync famous brand's products to their shopify stores to sell on demand for free."
This means that sellers don't have to go negotiate with brands or artists to get the license, and when the product sells, that brand or artist makes money every time. "That's how we can help stores make millions of dollars dropshipping," Mike says. "And no one has anything like this in the world, it's so incredibly special. It's the future of merchandise"
As if that weren't enough, they've invented digital stickers for merchandise, a creative asset that allows that user to take a Kiss logo, for example, put it on a shirt, customize its size, add a background, print, and sell it. Kiss, meanwhile, gets money in their cart in real time.
What's Next? Keep Raging On!
Looking back on the past four years of his business, Mike is immensely proud of how far RageOn! has come: "We've generated over 15 million dollars for creators and artists and brands, and this is just the beginning," he says, beaming. "There are so many things we've invented and built that are beyond the original scope."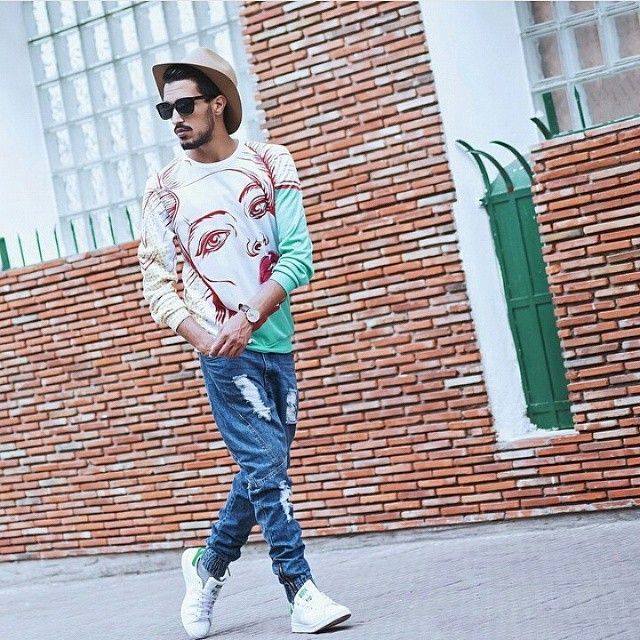 So what's next for the company who has conquered the all-over custom printing industry? It should come as no shock that Mike already has something in the works:
"We're building a decentralized network on the blockchain for intellectual property protection. RageOn! will be the first customer. It will be the first time that people can protect intellectual property in a transparent manner. People will get token rewards for building and contributing to this amazing platform."
While you're waiting for this exciting new network to finish completion, however, isn't it about time you ordered your very own Lisa Frank leggings or your customized, all-over-printed onesie to get you through another gray winter? After all, what better way to live life to the fullest. Or in Mike's words, to "Rage On!"