A visit to BRIKA, the Toronto-based makers' marketplace, offers a visual feast that will have your eyes popping and might inspire your next creative streak, if not your next shopping spree. You can revel in Michelle Meronek's minimalist jewelry from her Brooklyn New York Studio Acre Goods, or check out Krista and Steve of Among the Pines, a husband and wife duo who make quirky, wood-based housewares. Then there's self-taught crafter Cathy Pascual who makes eclectic stitched wall art in her Catshy Crafts store, and The Oyster's Pearl's adorable yet lively printed T-shirts.
BRIKA boasts over 400 artisans, each of whom are carefully selected due to their passion for their craft. But it was the passion of two co-founders, Jen Lee Kos and Kena Paranjape, that brought BRIKA to fruition.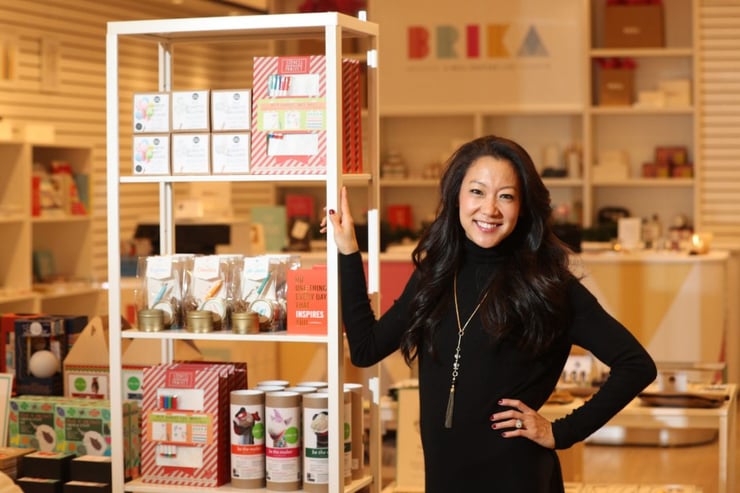 The idea for BRIKA started in Toronto, when Jen, who worked in finance at the time, was exploring blogs on her freetime to spark some creative energy. She came across Kena Paranjape's writing, and was pleased to discover that she too lived in Toronto. When the two met for coffee, the connection was instant, and they soon started to discuss plans for what they could build together.
Their complementary skill set made them ideal partners. Jen, a graduate of Harvard Business School and Oxford, had extensive experience as a financial analyst and consultant and had been working as the director of Dream Unlimited, while Kena's impressive CV as a merchandising expert included names such as the Gap, Indigo, and the Canadian eco-friendly paper brand Pistachio. Their shared love of independently-designed, custom-made gifts served as a starting point to get things going, says Jen:
"From a consumer standpoint, we thought it would be so great to have a platform where customers could shop only the best, most curated, hand-picked artists and designers. On the other side, we were asking how we could serve the makers and artisans better and provide them more exposure and greater chances to be more successful."
Of course, there were already one-size-fits-all platforms like Etsy on the market, but nothing that really offered a curated selection of artisans' creations. "There was so much noise in the maker community at that time," says Jen. "I think makers were looking for a place where they could shine."
Serving a Community of Makers
Jenn sees BRIKA as differentiating itself from similar platforms through its commitment to its artists and accessibility, whereas the other platforms seek to merely populate their website with products without giving their producers anything back. This, Jen says, is what sets BRIKA apart: "We have always been there for our makers, whether they're reaching out to us for business advice or product development advice, we really try to be there for them."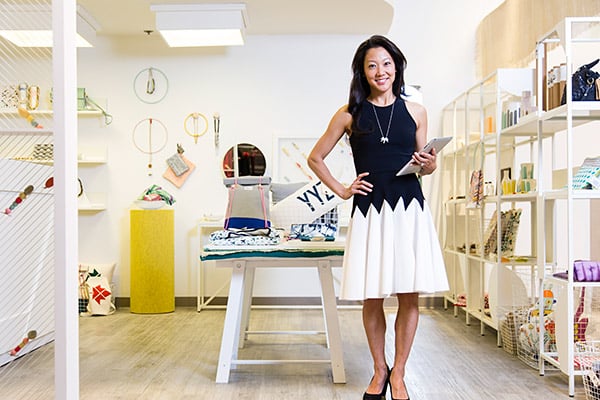 BRIKA is also able to offer their makers professional opportunities and exposure that few competitors can due to their partnerships with brands and independent retail locations in Toronto. Just six months after the company launched, BRIKA went to Hudson's Bay and proposed a popup store, the first of many successful partnerships with retailers. Its success allowed them to open their own store to showcase the wealth of products made by independent artists, and helping drive their mission forward:
"Having an offline presence is huge, because I think our products really lend themselves to being touched and seen. So we started to really build a nice offline permutation of what we were doing online, and that allowed the makers to get more exposure. It also allowed us to make very large wholesale orders, which is very meaningful for these makers."
Their continued partnerships with brands like Lord and Taylor and Hudson's Bay also offer artists the chance for exposure that they would struggle to find on their own, and helps drive BRIKA forward. Jen attributes a lot of the company's success to the rapid speed with which they embraced physical retail locations, a move that she says allowed them to differentiate themselves from the competition.
A Perfect Mix: Blending the Art of Crafting with the Speed of Digitization
Checking metrics is an important part of their strategy, both online and offline. In their stores, they use traffic cameras to track their conversions down to the minute, which Jen says they watch "like hawks." This helps them figure out who to staff, when, and at what frequency. Their strategy for online metrics measurements is comparable, with the addition of a lot of a/b testing. "We're in a transaction business, so it's sales sales sales!" Jen laughs.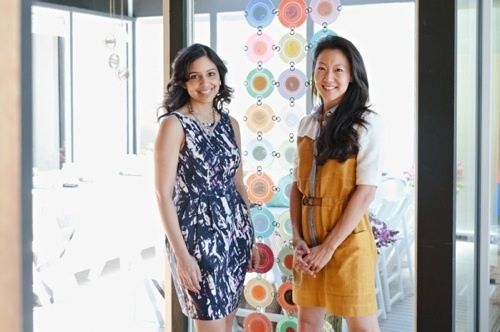 Ecommerce has changed a lot in the past five years, Jen says, in large part due to Amazon training customers to expect more than most online retailers are able to offer. In contrast, brands like BRIKA offer customers a necessary alternative, where speed is not a virtue, but rather the slow and concentrated work of putting an item together with love. "I think we're in a positive situation," Jen tells us, "because we have products that are special, unique, and sometimes customized, so people have the propensity to wait for our goods."
With retail bankruptcy at an alltime high, Jen is optimistic about brands with omni-channel models, especially those that speak to the conscious consumer:
"I hope that we're building the brands of the future, that we're building the next Gaps and Abercrombie and Fitches - companies that are going to be around for perpetuity."
Jen left us with some tips for newcomers to the business of ecommerce that she has learned throughout her time in the industry. "Don't ever get lost in the hype of building a business," she warns. "Because there is so much excitement about being an entrepreneur and what that means, and I think it's important to just put your head down and just go after it."
Second, she says, always raise more money than you think you'll need. "Cash is king at the end of the day, and if you don't have it you flame out. So part if it is just being smart about it and part of it is being able to raise it." Apart from that, though, there isn't a big secret. Working incrementally, step by step and believing in what you're doing can take you a long way.
Lastly, Jen suggests, don't worry if someone is doing something similar to you: "It's not about doing something totally different, it's about sticking to your guns and doing it well."