If you think bodybuilding and jewelry design don't mix, then you clearly haven't met Tina Tang.
This former Goldman Sachs trader left the financial industry in the hopes of becoming her own boss, which led her to designing her own jewelry, running her own store, and eventually becoming a personal trainer.
Now, she's combined her passion for entrepreneurship, fitness, and jewelry design with Iron Strong Jewelry, a quirky ecommerce store for the heavy-lifting woman.
Tina's designs offer shoppers the chance to celebrate their fitness achievements, be it one's first triathlon or the first time they deadlifted. Choose from ballet shoe necklaces to barbel charms or don an inspirational necklace with empowering engravings like: "She believed she could do it, so she did."
Empowering women to achieve their goals and celebrate their successes is why Tina Tang does what she does, be it in the fitness center or the design studio.
From Store Owner to Trainer and Back Again
"I started my first ecommerce business in 1999. There was internet, but people weren't really shopping online," Tina tells us. After an editorial was published about her store, a friend suggested that she find a way to make it possible to purchase the jewelry online to make it easier for customers to shop.
The art of jewelry lended itself perfectly to ecommerce, she says, in part because of its versatility.
"With jewelry, if you don't sell a piece, you can reuse it; you can melt down the parts. With clothing, what if you create something you love but no one else loves it, then you have all this inventory that takes up all this space. With jewelry, it's compact, the parts are reusable, and it seems much more practical."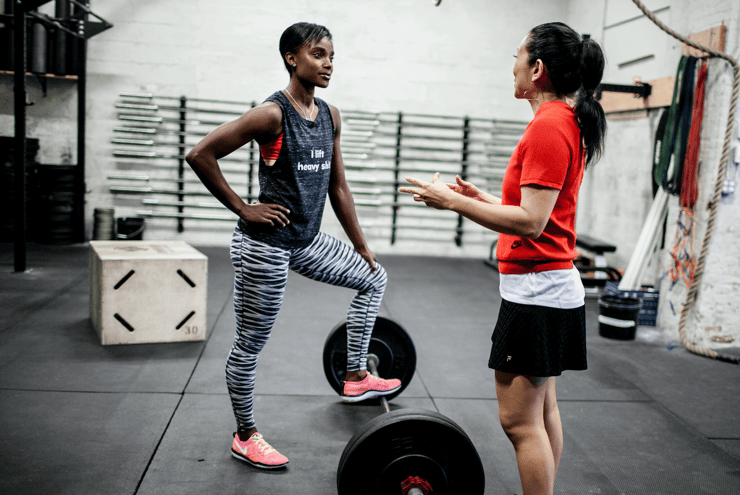 After the financial crisis hit, however, Tina was forced to close up her New York City shop, and eventually decided to take a break from jewelry design altogether. For two years, she worked as an Equinox personal trainer, helping clients reach their fitness goals.
Nine months into her first year of training, Tina achieved a stunning feat, passing what she describes as a "grueling" StrongFirst kettlebell instructor certification. She made a kettlebell charm to celebrate her accomplishment, and soon clients begin asking her to create designs for them as well. Thus, Iron Strong Fitness was born.
An Ecommerce Veteran on the Changes the Industry Has Seen
For years Tina sold her jewelry in stores, but now she operates mostly online. She runs all the operations herself, designing her pieces in her Jersey City studio and manufacturing them in New York City.
After nearly two decades in the business, Tina has witnessed lots of changes in the ecommerce industry, particularly the shift in the influence of print magazines. Whereas an article in Lucky or Vogue used to generate huge sales, influencers are now spread out across the web, making it harder to make a mark.
"The biggest challenge now is how you cut through the noise and make yourself known. There's so many people selling clothes or jewelry or services, and even though everything is online, you still need that personal aspect of a traditional brick and mortar store where they had a certain environment. It's about trying to create that electronically and having people come back to it. As a small business, that is hard."
Google ads have been effective in generating sales, and Tina optimizes her emails to suggest new products after customers have made a purchase or to ask for a review.
For quality photos of her tiny charms, she swears by an app called Selfmade, where customers can upload photos to be edited by professionals for a monthly fee, saving time and money in the long run.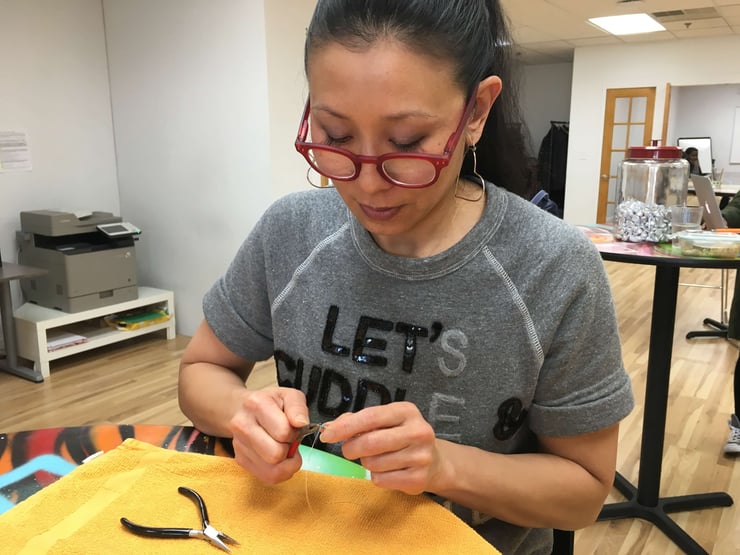 At the moment, Iron Strong Jewelry operates on Wordpress and Woocommerce, but is Tina considering switching to Shopify. Despite the platform's fees, she would advise newcomers to opt for such a product to save the time and effort of trying to do everything yourself.
"You'll end up doing a lot less customization than you think, and it's much easier if they have everything all in place."
An Iron Strong Entrepreneur
Tina laughs when we ask her how she's found success, reminding us that for most every entrepreneur success is relative.
The lifeblood of business owners is reaching for the stars and working to continue growing and developing. However, it's clear that Tina is living her dream of spending her time immersed in an amalgamation of her disperate passions and being her own boss.
"Success is not having to go into an office and work for someone else," she affirms.
"After working for myself, I just couldn't go back to working for someone else. There's this satisfaction to creating your own product – and not just creating your own business, it's treating your employees the way you want to be treated, it's creating an environment that is pleasant for everyone to go to. It's the whole package of running your own business."
So whether it's to celebrate the success of being your own boss, running your first marathon, or being an all-star parent, friend, or co-worker, isn't it time you picked up an Iron Strong charm for your own collection?
While you learn from other entreprenuers like Tina, see how you can grow your ecommerce business with our marketing tools.