The world of high-end jewelry can feel daunting for the everyday shopper. The lavish diamond earrings flickering in a Tiffany's window display, eye-catching as they may be, have become more a status symbol than a playful, authentic form of self-expression. What if you're looking for something more daring and contemporary, yet made with all the care of a luxury product?
Well, if that's you, you're in luck, because Nadine Ghosn of Nadine Ghosn Fine Jewelry is on the path to transforming the global jewelry landscape, one charm at a time. Imbuing her whimsical yet timeless designs with the most idiosyncratic nods to food, culture, and her own personal biography, Nadine effortlessly combines style and swagger in her stunning collection. Shoppers can bejewel themselves with elegant rose gold and champagne diamond necklaces, edamame earrings, and of course, the iconic hamburger ring, recently sported by pop icon Pink. We caught up with Nadine to talk about the courage it took to start a business from scratch, her unique vision, and what's in store for her in 2018.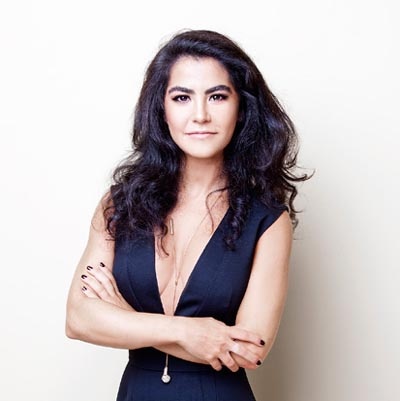 An Idea is Born
"I come from a very atypical background, having gone to Stanford and majoring in economics and art, and then entering the fashion industry for something I am really passionate about, which is jewelry," explains Nadine. Her voice itself exudes a confidence and a sense of satisfaction at speaking about the project she's built from the ground up. But Nadine Ghosn Fine Jewelry wasn't an inevitability. In fact, it was a chance trip to Lebanon that sparked the idea that would alter the course of Nadine's life.
By the time she was 25, Nadine had gone from a job at Boston Consulting Group to a manager track position at Hermès. During negotiations about her promotion, she decided to travel to her mother's native Lebanon. "I ended up being in a jewelry store speaking with the owner," Nadine recalls, "And he told me that a lot of Lebanese craftsmen were being lost, specifically because there is very little demand for hand labor. And these are people who had been working for the past 20-30 years at their craft." As a Lebanese/Brazilian, she saw an opportunity to help the craftsmen and explore one of her passions.
Deciding to start her own business came at a price, which included turning down a job as Head Buyer for the UK at Hermès in London. But as any driven entrepreneur knows, sometimes you don't have any choice but to follow your vision:
"It was the first time in my life that I was breaking from what was expected of me without really having a clear vision of what would come out of it. But I had a weird intuition that it was only if I tried that I was going to find that fulfillment and alignment that I hadn't found yet in my career."
So, Nadine pressed on.
Building a Brand, Creating a Buzz
"I spent the next six months creating my brand, my logo, my visual identity, and also thinking about my ecommerce website," Nadine explains. "I was learning all about jewelry, but also all about branding, and that was greatly shaped by my experience at BCG and Hermès, where they thought about the marketing tools, image, and customer experience specifically online."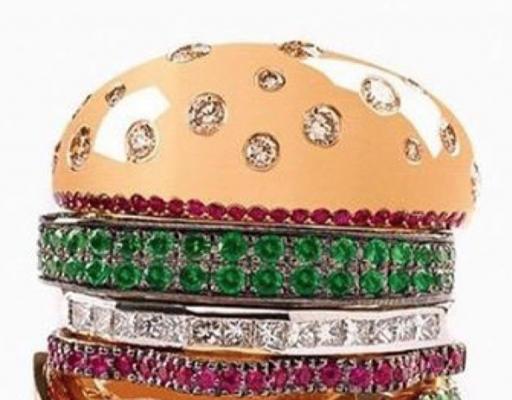 Working with a small budget and entirely on her own, Nadine finished her branding and began the task of incessant networking. "I put my ego aside, and started to relentlessly and resiliently reach out to the stores I wanted to be in and the people I wanted to work with," she says. The first store that brought her on was the renowned Paris boutique Colette. Once she was on board, they were able to market her and spread the word about her designs.
"From Colette, I was able to open a few more doors by reaching out to people and being in the right place at the right time. Having very famous people buy something helped, and then Instagram came into the business. It's why I don't need a PR team, because I have a way to communicate online to my followers the journey I'm taking and the different chapters my brand is going through."
A One-woman Show
Not only does Nadine not have a PR team, she is the only full-time employee at her company. "I do the manufacturing, press, creative; I do all aspects of the company," she says.
"At the start of something, first you have to be very hands on. You're constantly learning; you are the best representation of the brand. And I think a founder is also the best indication of whether a company will survive or not, given how much grit they have to have and how willing they need to be to approach different obstacles that come along the way."
Many entrepreneurs enter their industries with the idea of conquering a specific regional market, but Nadine always wanted to go global. Although joining Colette in Paris certainly offered her a boost, she had always approached her business more holistically. "As long as I was true to my vision, that's how I believed my company would grow, and that's what happened," Nadine insists. A lifelong traveler, bouncing from Paris to Tokyo to California and beyond, she has an intrinsically global perspective, which compelled her to attack the market all at once.
Her impeccable online presence has certainly offered her a leg up in the global marketplace, with a website featuring stunning, vibrant photographs and an easy-to-navigate online store. Her Instagram is lively yet down-to-earth, a mix of elegant spreads and spontaneous snapshots featuring her bejeweled rings, necklaces, and charms.
Looking Forward
Now two years in, and with a wealth of experience under her belt and having taken home Vogue Arabia's High Jewelry Fashion Prize this year, Nadine is ready to expand. She's now working on a transition to Shopify, and sees building hear team and increasing her presence online as the two priorities for 2018. Conscious of the limits of her own technical knowledge, she's bringing experts on board who will help her with her analytics and data measurements. "I'm constantly learning, and surrounding myself with people who know more than me," she says. "You have to be hungry to learn, and objective enough to know that maybe you're not the best person to do something."
In hindsight, it's hard to imagine that a mere two years ago Nadine was just starting out, jumping headfirst into a brand new industry in which she had no experience. Looking back at those early years now, what kept her going even through the rough times?
"I honestly don't know," she laughs. "It was so intrinsic in me, I just thought: I've made this decision and I'm not going to look back. I had nothing to lose and everything to prove. So that was my mentality going into it, and that makes you put your ego aside and makes you extremely hungry."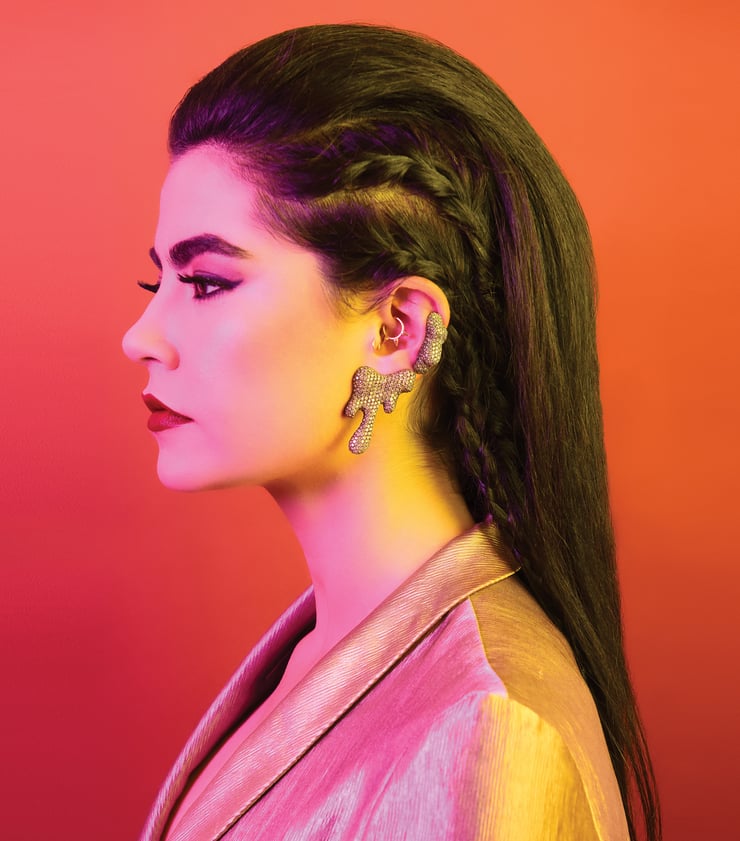 This hunger has led Nadine on a path to success, and is augmented by her vision, which is less about the gold and diamonds and more about modeling courage:
"My vision isn't linked specifically to jewelry, but to creating an example for our generation of someone who is passionate about something and had zero background in it, and not a lot of support initially, but who went after what I wanted in a way that was completely different from the industry standard but was still able to get momentum."
This doesn't mean that she feels as though her work is done. "I never wake up thinking I've made it," she laughs.
"I feel like I've had a really amazing journey but every day is a new challenge, which is what's great about my business. But it's really high highs, really low lows, as it is for any startup. The best way to create a safety net for yourself is to develop yourself as a person and a founder and surround yourself by things that help you be more balanced and not burn out."
With this passion in mind, Nadine is ready to tackle the future with courage, conviction, and, of course, a whole lot of style.