A full recap of this recent free virtual summit. For the next event check the EcommerceTech website here.
I have bad news… I've talked with dozens of Ecommerce CEOs, and none of them ever said to me:
"Great, I've hit $1 million in sales, there's nothing left to do, now I can retire."
The truth is, the $1m mark can be a breaking point, where you're getting strong traction... but you can't afford to put all of the systems in place to really break through on margin, and growth.
Here are some of the tactics and tools designed to improve margins, drive omni-channel growth and success (because Facebook ads isn't the only channel, it turns out), and take your store to the next level:
Overview:
Marketing:
How to Scale Your Ecommerce Store with Facebook Messenger Marketing and Conversational Ads
Marketing Automation 101: Beyond "Email Marketing"
The Art and Science of Viral Marketing
Influencer Marketing: From Micro to Macro
Celebrity Marketing and Partnerships
Shopify Website Teardowns (Conversion Rate Optimization) with Kurt Elster
Improving Your Most Opened Emails: Shopify Notification Emails
5 Ways to Fight Rising Ad Costs
Retention:
Scaling Your Ecommerce Store with Subscriptions
Customer Service:
How to Turn Customer Service from a Cost Center into a Revenue Generator
How to Use Customer Service to Scale Your Business
Branding:
How to Make Your Customers LOVE you, and Why Every Brand Can Do It
Founder Interview:
Romain Lapeyre, CEO Gorgias, Interviews Sam Venning, Founder YCommerce


How to Scale Your Ecommerce Store with Facebook Messenger Marketing and Conversational Ads
By Ben Parr, Co-Founder Octane.AI
Why Facebook Messenger is Such a Big Opportunity
Messenger can do things email can't...
Email is:
One way communication.
Must type out your email address in order to opt-in (annoying and while it feels minor, it's a serious barrier).
Low open rates and click rates ( ~22% open, ~1% click-through) due to spam folder, promotions folder, and floods of other emails being in your customers inbox.
Messenger is:
Interactive. It's time to bring that personalized shopping concierge, from in the store, online.
One-click opt-ins (as low barrier as possible)
High open rates (98%) and click-through rates (up to 40%). That means that a 1k Messenger list is comparably as powerful as a 40k Email list.
How to Achieve Hyper Growth with Facebook Messenger Marketing
The Messenger Marketing funnel is different than your traditional marketing funnel, so it is important to adjust your strategy accordingly: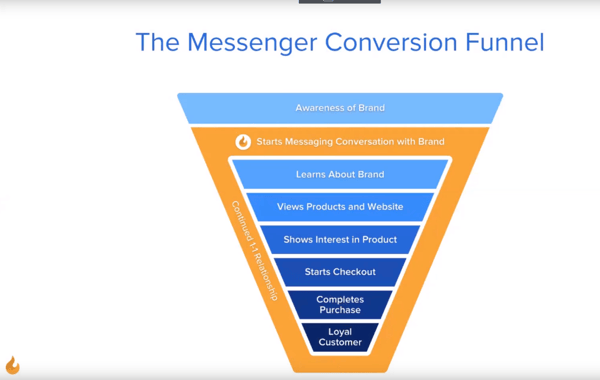 The first thing to do is get opt-ins through on-site and on-channel opt-ins.
Here's 5 ways to do that on-site:
Discount offer pop-up: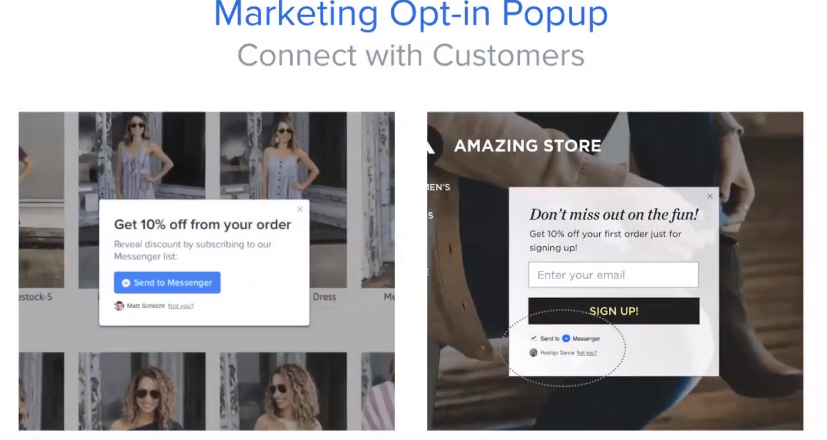 Facebook Messenger Chat Embed: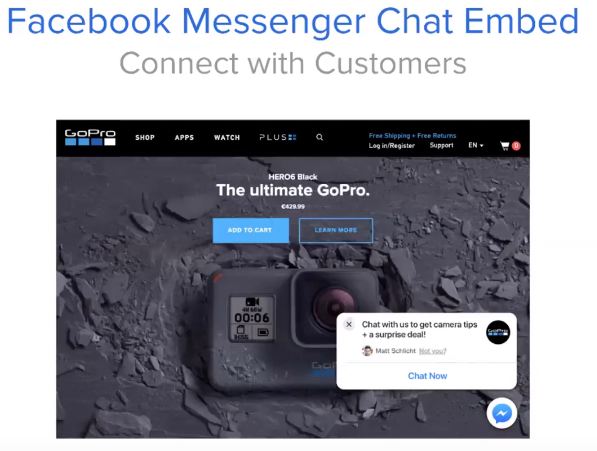 Add-to-Cart Checkout and Pop-Ups:

Order Confirmation Page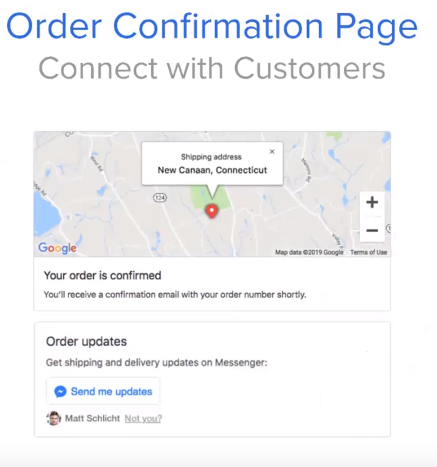 And you can even email your list to get them into a higher engagement and higher converting channel: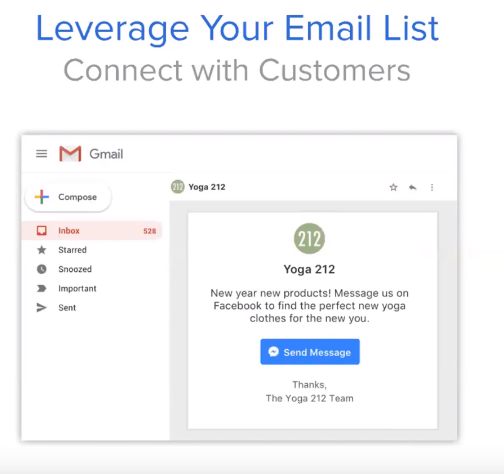 Driving High ROAS with Conversation Ads
Did you know that you can send an opt-in request message to everyone that comments on any post on your Facebook page (or ad)?
It's a new feature released by Octane AI called Global Facebook comments, and I think this is huge for Ecommerce stores.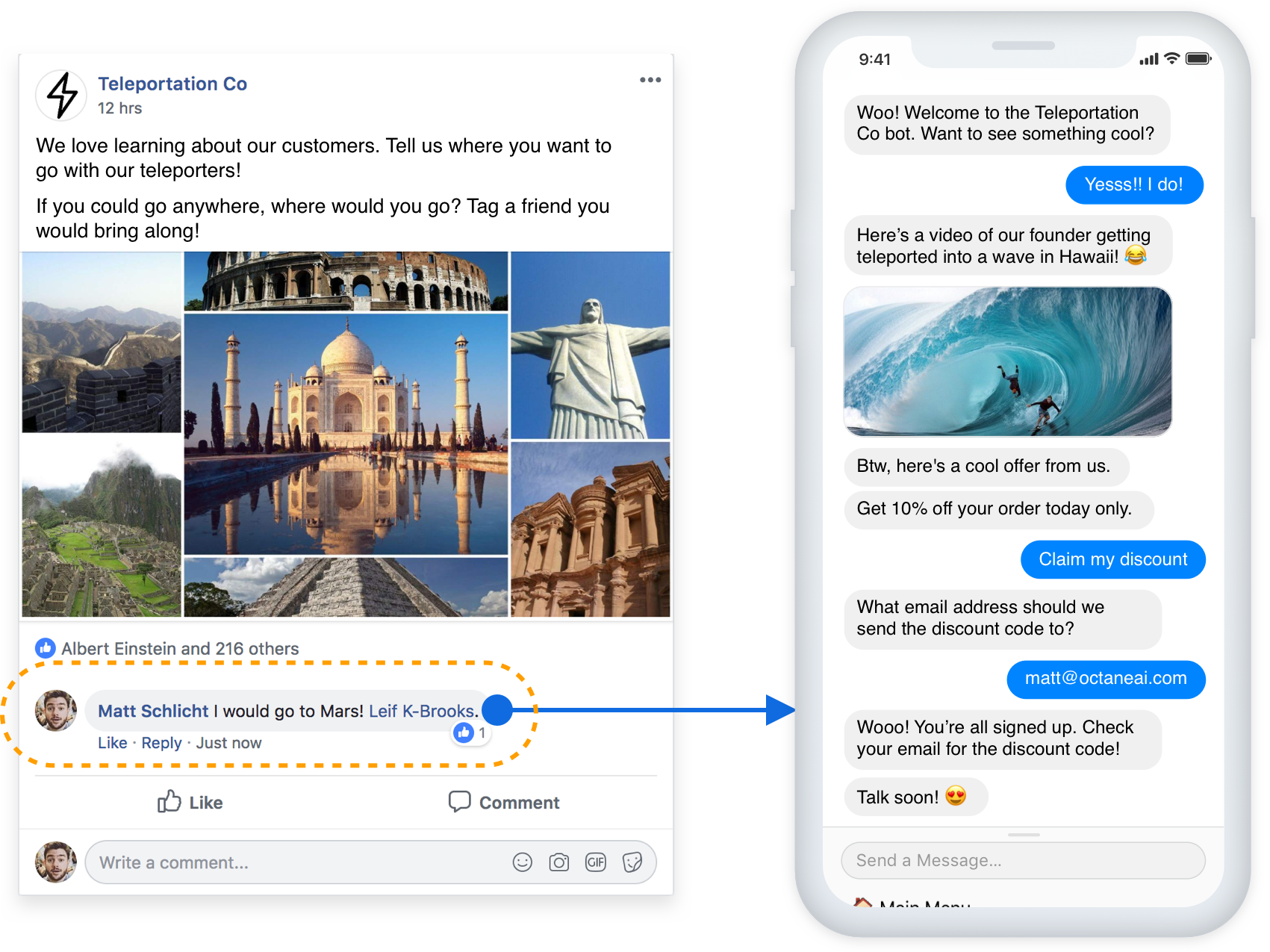 To really take advantage of a comment below campaign, here's what you do:
Run a giveaway centered around your product, create a Facebook post (bonus points for video post where you are talking about the prizes and partners you've got in the giveaway):
Ask people to comment below the video to enter to win, that will trigger your opt-in Messenger campaign.
Grow your Messenger list fast.
Nurture and sell off the back end of the giveaway.
Repeat and profit.
Marketing Automation 101: Beyond "Email Marketing"
By Jimmy Kim, CEO and Co-Founder Sendlane


Segmentation and Personalization: The New Way to Win
Being great at converting and retaining customers is about much more than collecting leads. This is the old, boring way of doing things: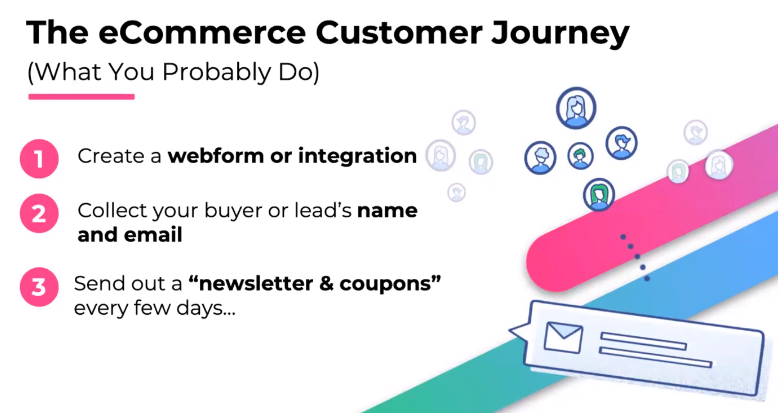 The new way is about tagging, identifying actions, segmenting, and personalizing your messages across multiple channels: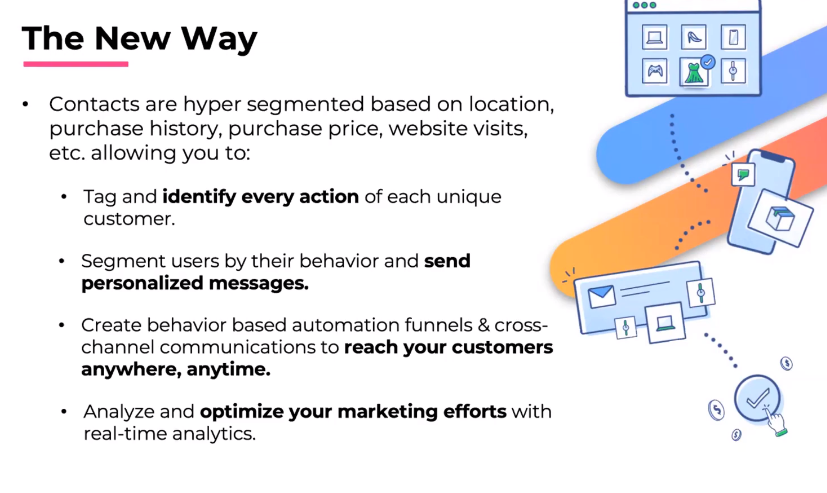 And this can increase ROI by 77% and contribute to over 50% of your total revenue… When done appropriately.


The Optimal Abandon Cart Email and Marketing Sequence
Abandon cart and abandon checkout automation are some of the most important optimizations you can make to your store.
Here's how it works from a high level: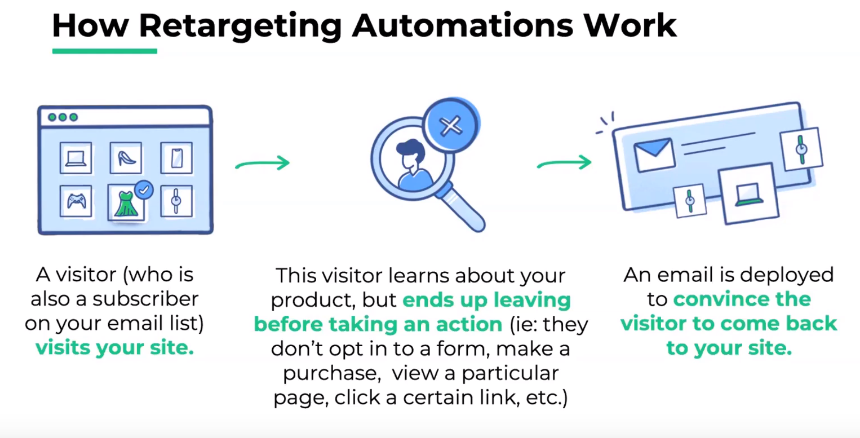 With the right software, your abandon cart automation will automatically segment and personalize each email based on the users browsing and purchase behavior. But you still need to set up the sequence.
Here's Sendlane's recommend sequence: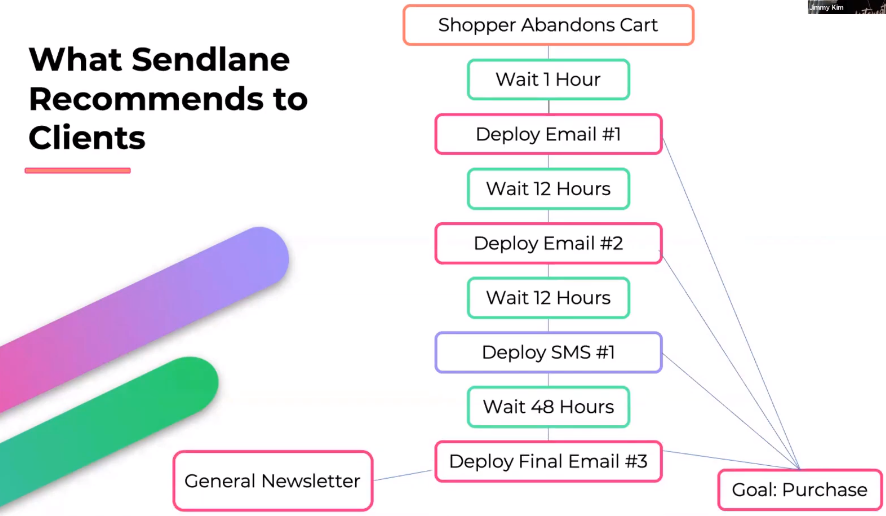 The Art and Science of Viral Marketing
By Savas Zortikis, CEO Viral Loops

Leveraging Customers to Get Customers
Right now, your marketing strategy may look like this: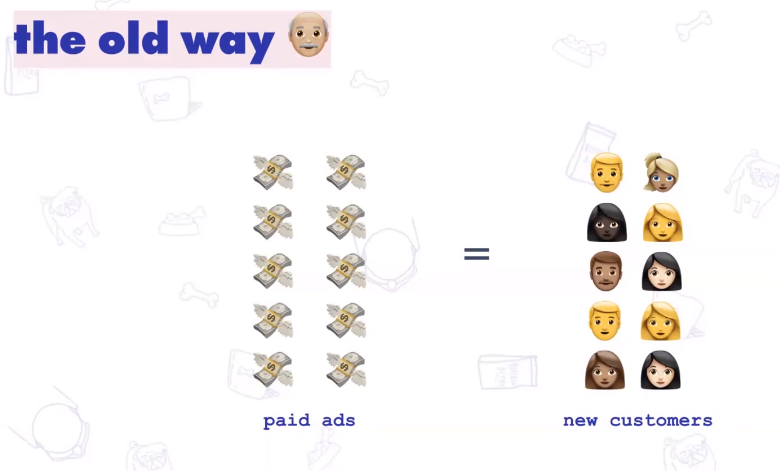 Just paying ads for customers. Dollar in, customer out.
But as you build your customer base, you are also building your strongest marketing channel: Happy customers.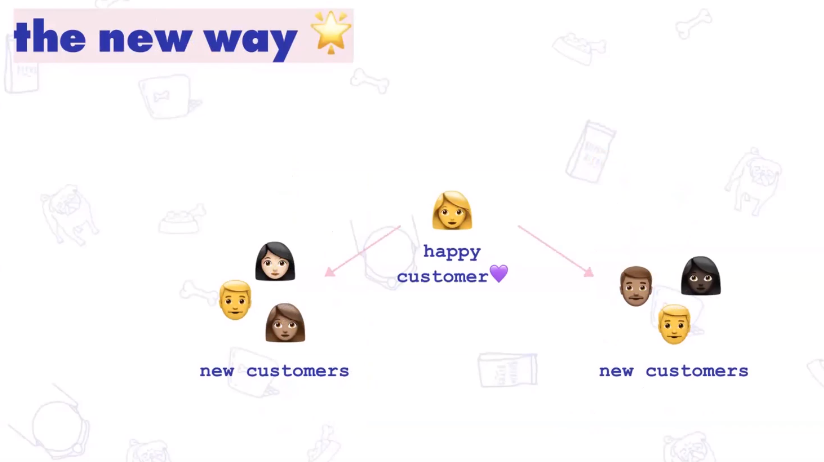 Happy customers talk about your brand, often for free, but there are ways to incentivize and track their referrals that will improve their referral rate.
It's more than offering them a coupon every time they refer a friend. There is a science to it… And an art: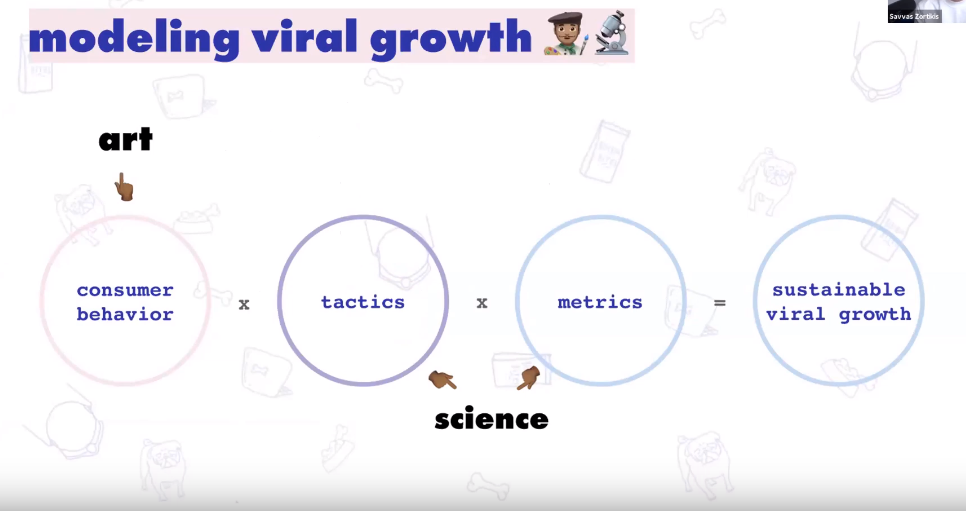 The 3 Must-Have Components of a Referral Program
In order to maximize success, you need to do 3 things well:

Gamification - You need to add some sort of puzzle or challenge to your program that makes participants feel like they are moving forward in a journey.
Exclusivity - When you're playing this game, you know that others aren't allowed to play it. You are part of the "cool kids." And as simple and obnoxious as that sounds, giving an allure of an exclusive club is important to fueling the intrinsic want to participate in the program.
Remarkable - Not middle of the road. Something that clearly stands out from the rest of other referral programs and marketing campaigns. This can be tough to define, but you know it when you see it. For example, instead of a typical food photo, perhaps you challenge customers to add a little flare to it by dropping it on the floor, or putting their foot on the plate: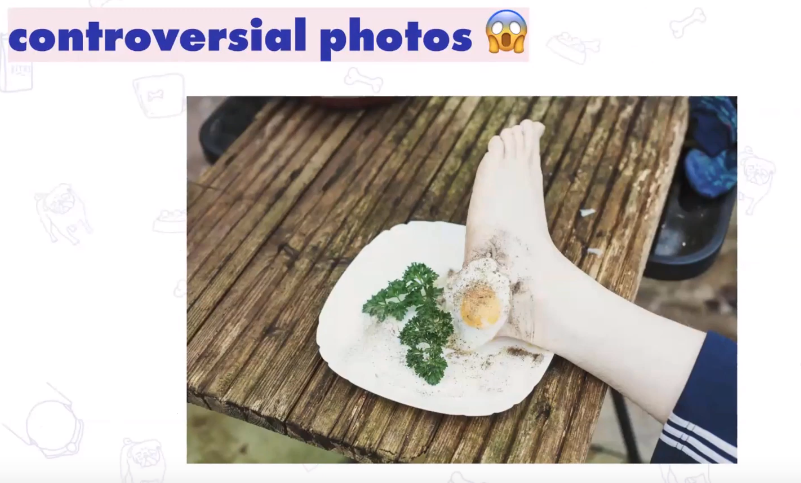 How to Reward Customers and Giveaway Participants
Here's a great example of a reward structure for participants based on specific milestones: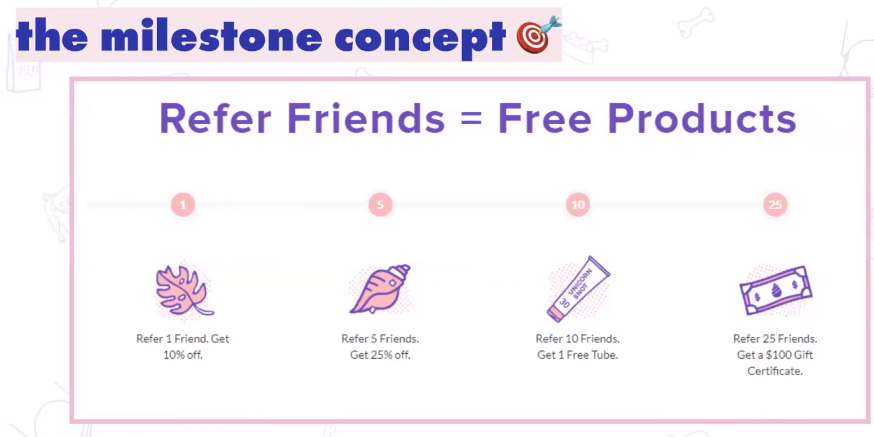 You can see how we've got both gamification and exclusivity working together to drive that intrinsic need for participating in the campaign. And in this case, the "remarkable" component was the product's name: "Unicorn Snot."


5 Lessons Learned After Running 3,468 Referral Marketing Campaigns
Milestone Structure.

Have 4-5 Incentives.
1st Milestone is easy to hit.
The last milestone is very difficult to hit.

Offline word of mouth counts for 80% of total word of mouth. Make sure you're encouraging offline conversations about your brand.
"Use my name at checkout." Especially for Instagram stories, make sure the coupon code is very easy to remember. Using a tool like Viral Loops, you can use the participants name as the coupon code. Since participants aren't likely to forget their name, it makes it easy for them to talk about you and refer others, as a natural part of their conversation.
80% of referrals come from 1 sharing channel. You don't necessarily know what the channel is until you run your first campaign. Be sure to measure which channels are driving conversions (not just traffic) and consider optimizing campaigns around those channels - cut out the other channels, double down on other marketing campaigns on that channel, etc.
NPS-triggered referrals. When you run a survey, send them into a referral campaign if they score an 8-10. This takes your most satisfied customers and drives them directly into referring their friends.
Influencer Marketing: From Micro to Macro
By Rachel ten Brink, Former CMO and Co-Founder Scentbird
The biggest takeaway: Own the data. Build your own database and keep your own records. Own the data of your influencer shares. And own (have rights to) the content they create.
Other quick tips:
Pay for views, not followers.
Every price is negotiable.
Start by studying the influencers your competitors use.
Or start by studying your top referral program participants.
Micro-influencers should be given product in exchange for promotion.
70% of your emails won't even get opened. This can be a daunting task.
Get a contract for all paid promotions.
Use a tracked link (I recommend Rebrandly for this).
Influencers are "over" extravagant unboxing packages. Keep it simple.
Don't have influencers post ON holidays. Have them post before holidays.
Edit down and turn influencer posts into Facebook ads.
Keep the "brand and style guidelines" to 3-4 talking points.
Save the first name coupon codes for the big influencers.
Make the influencer keep the link to the product above the fold:
Notable Influencer marketing platforms:
The Different Approaches from Micro Influencers to Macro Influencers
Your influencer marketing program should be based on budget, existing connections, and goals. You need to approach each tier with a different strategy. The smaller the budget, the lower the tier you will start with.
But larger programs should not exclude lower tiers, so much as layer on the bigger players.
Example:
Let's say you have $100k for a campaign.
You may look to gather 30-50 micro influencers, who you pay in product, costing ~$10k.
Then you pay $20 C-tier influencers $500 each, that's another $10k.
Next you've got your B-Tier heavy hitters, the goal is to secure 10 of them at $5k each. That's $50k.
And one A-tier celebrity who you're paying $30k.
Orchestrate the promotion so that the celebrity launches on Day 1, and all other influencers posts on Day 2.
When consumers see all the posts flooding in on Day 2, and they track it back to that Day 1 celebrity post, it feels like a viral trend.
That's a well rounded campaign that looks like it's going viral and stemming from one celebrity post, but it's actually your brilliant design that is sparking the virality.
Note: In my opinion, you should always save an equal or greater budget for paid ad promotions, which exponentially amplify the organic efforts of the influencers. Be sure to front-load your ad spend for the early viral days, and taper it off as the campaign stales.
Celebrity Marketing and Partnerships
By Greg Writer, President Celebrity Lifestyle Brands, CEO Launchcart
Greg has such an amazing story, I just love talking with him. When we were finalizing his session for the event, he says "I'm a little busy now…" and sends me this picture: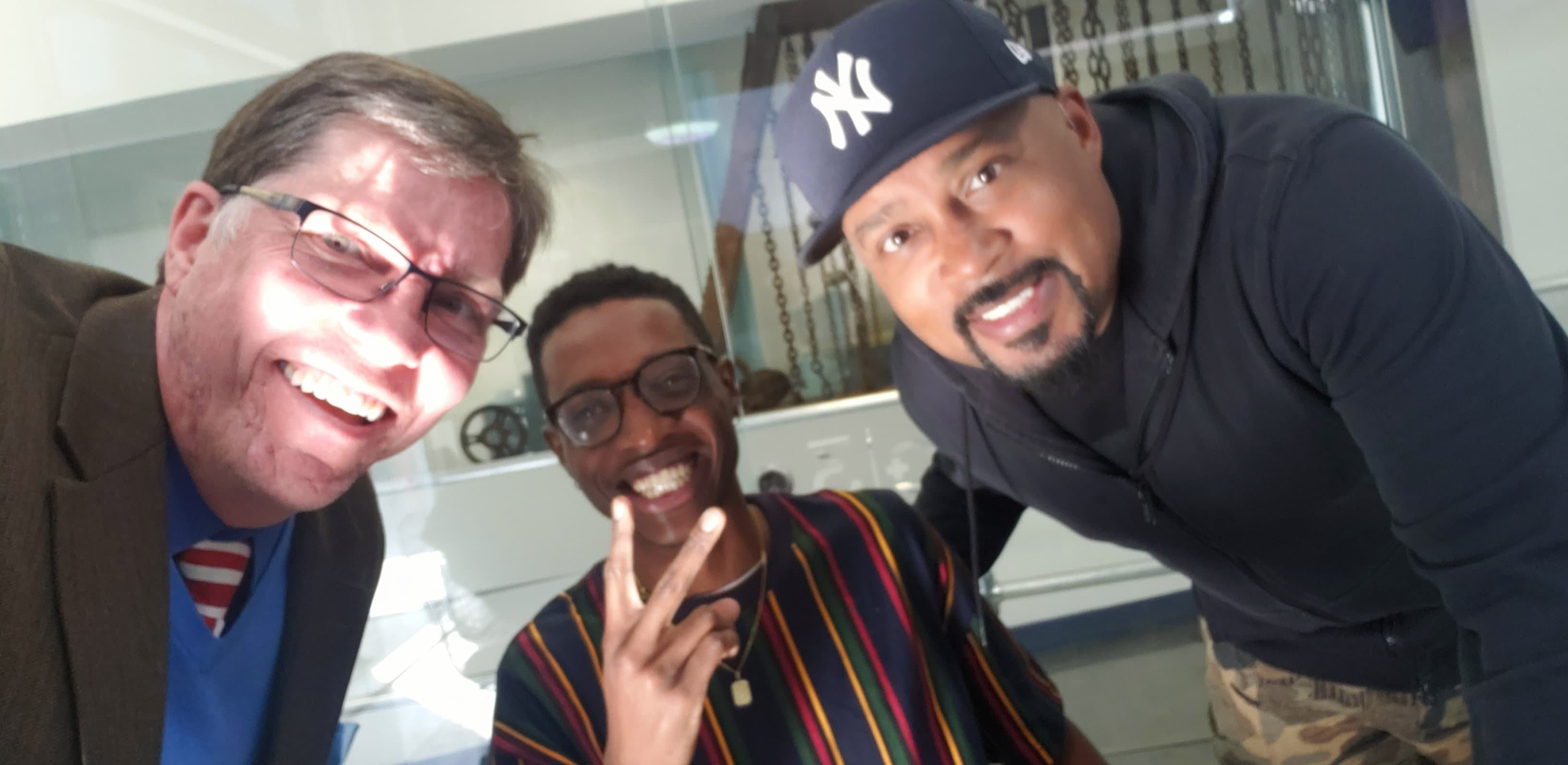 Greg Writer and Daymond John
Greg has worked with so many celebrities over the years, it's incredible. And that's what has led him to launch a couple of companies around celebrity partnerships and marketing.
How to Start a Conversation with a Celebrity
Here's the secret: Most celebrities have charities, and they always want to raise more money for them.
So, what do you do? Help promote their charity.
Research celebrity.
Pitch publicist on charity related to celebrity.
Create a flash sale and micro-site with designed merch.
All profit goes to charity. Your ONLY goal is a conversation off the back of the charity.
All of the traffic and conversion is driven by the celebrity. Your only job is to manage the back-office, which is something the celebrities are typically not that great at. This is how you test before you invest in the celebrity partnership. It's important that you find out if you are compatible with each other. BOOM!
Partnering with Celebrities, Not Just Paying Them
The problem: Celebrities have strong brands, but not necessarily a way to monetize that brand.
The solution: Make your Ecommerce brand the celebrities personal brand.
Pay for a booth at a gifting suite for a red carpet event. Use Celebrity Connected to find the right one for you. Or Google "Celebrity Gifting Suites."
Celebrities walk around from booth to booth, you can give them your pitch and if they like your product, you can take a picture with them, or set up a future meeting, or…
What Greg does is gift them 100 shares of their company stock in exchange for a brief video testimonial. The kicker: when someone becomes a shareholder, they have a vested interest in your brands success.
Also, as a shareholder, you get all of their personal information, so that you can easily follow up with them later.
Bonus: Offer to use the celebrities page to promote the product. Put your own ad dollars behind the ad and use their account not yours. This is great free exposure of their personal brand, and quite often it will convert better than coming from your page. Great social proof.
Protecting the Celebrity's Brand
The number one thing a celebrity cares about is protecting their brand. You need to make it clear from the start, that you have the capability to protect their brand.
This means talking about approval processes, legal compliance, understanding brand and design guidelines, and knowing who else your brand is associating with. Keep their brand protected.
Shopify Website Teardowns (Conversion Rate Optimization) with Kurt Elster


By Kurt Elster, Senior Shopify Plus Expert, Etherycyle, Host of the Unofficial Shopify Podcast
Key takeaways:
Leverage the "F pattern." People read from left to right, typically scanning.
Put your tagline in your logo
Put a shop now link in your banner bar.
Social links in footer or order confirmation or thank you page.
Remove "Home" from navigation bar.
Social proof on the hero image.
Never do text in image. Google can't read that and it isn't mobile optimized.
Keep all images sizes consistent. Square is best, but it depends:
If you are showing your Instagram feed, don't allow that to send them to Instagram.
You don't need to show people the credit card options you use.
Don't let Shopify themes default to a specific size. It should default to "Choose a size."
Always have a related products section at the bottom of a product detail page.
"Add to cart" should always take the user to their cart.
Incentivize buying more with a qualification for free shipping incentive tool.
Keep scarcity elements aligned with your brand.
No one cares about your free newsletter. Create a better reason to join. Use your personal brand.
Use Shopify payments for improved conversion rate at checkout.
Leverage your influencers by highlighting them on the site.
Consider videos and video backgrounds for your above the fold content.
Accordion menus may not be needed. Just keep it scrollable.
Add live chat to handle objections and increase conversion rate.
Improving Your Most Opened Emails: Shopify Notification Emails
By Roddy Smith, Director of Sales, Spently
Takeaway: Whether with Spently, or on your own, you need to update your Shopify notification emails STAT. Have you looked at your own transactional emails? Have you modified them to fit your brand? Or are they still the generic templates that Shopify starts you out with? There are approximately 15 transactional emails that Shopify sends up automatically on your company's behalf. Here's the breakdown:
7 Order Notifications:
Order confirmation
Order cancellation
Order refund
Draft order invoice
Abandoned checkout
POS receipt
Gift card created
4 Shipping Notifications:
Shipping confirmation
Shipping update
Shipping out for delivery
Shipment delivered
4 Customer Notifications:
Account invite
Account welcome
Password reset
Contact customer
These emails have insane open rates, according to Experian: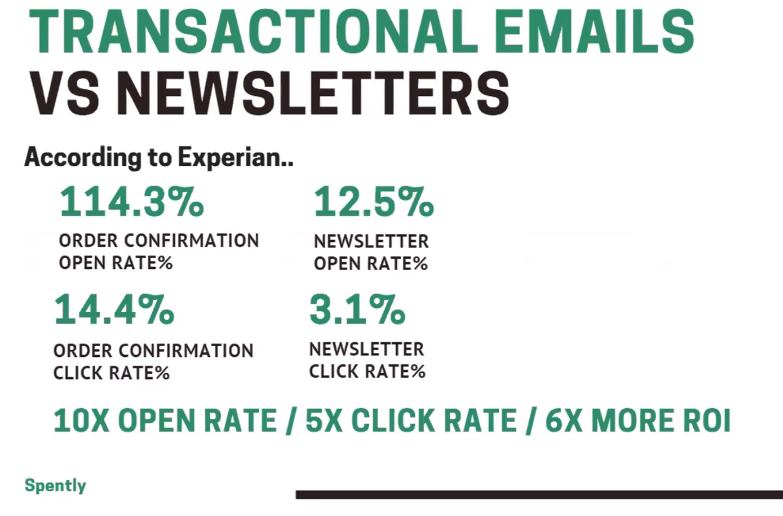 Improving Your Order Confirmation Email
Here's what the Shopify default order confirmation email looks like: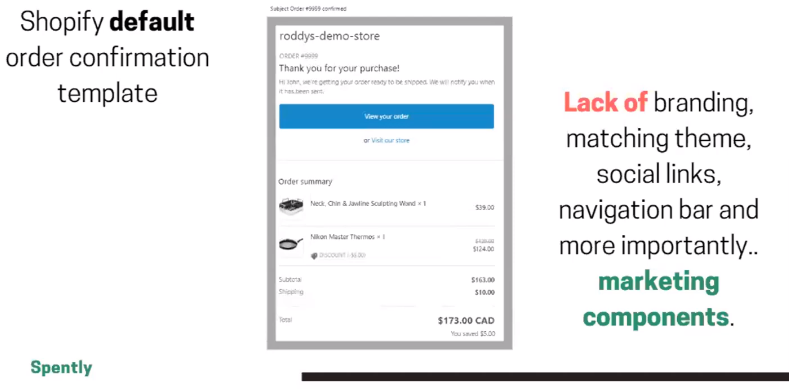 Do you think you can improve on this? I certainly hope so.
With Spently, you can add navigation menus, custom coupon codes, and product recommendations, and have your order confirmation email matching your brand, all in under about an hours worth of time:
Note: Spently does not replace your Email Service Provider, such as Klaviyo, Sendlane, or Omnisend. They focus nearly entirely on the notification emails, which the other tools don't help with as much. For that reason, Spently is a perfect complement to an ESP.
Scaling Your Ecommerce Store with Subscriptions
By Jay Myers, Co-founder BoldCommerce
Subscription customers are 178% more valuable than non-subscription. 8% of all customers are repeat customers, yet they make up 41% of all sales. Adding subscription products to your business will increase your revenue, and your valuation.
There are 3 types of subscription purposes:
Replenishment
Curation
Access
And the best stores are combining all 3 to drive retention.
Here are the reasons that customers start, continue, or cancel, based on each purpose: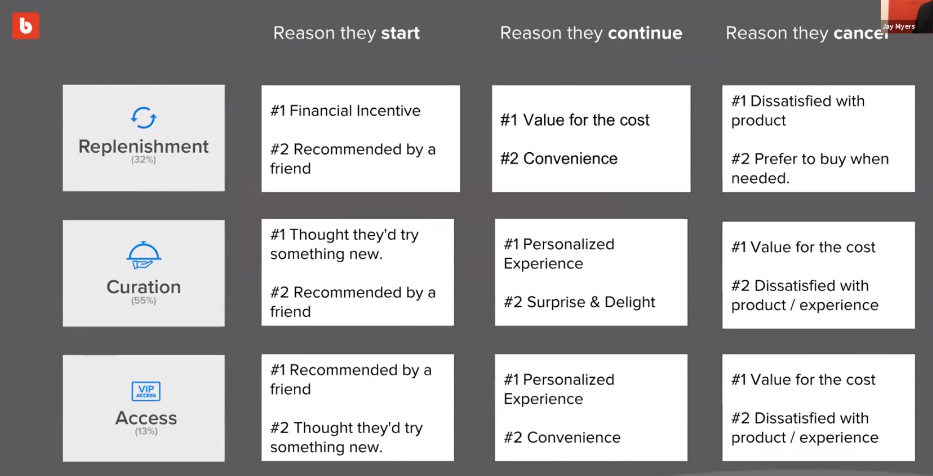 The number one reason people start a subscription is that they were recommended by a friend. The number one reason they continue is the personalized experience.
And the number one reason they cancel, is because the value isn't worth the cost.
There are 6 main types of subscription products:
Mystery Box

Feature hot items.
Great for curation.
Get free products from suppliers to add in.

Cart

Replenishment food and groceries.
They choose when to restock.

Product

Single product subscription.

Memberships

Add to a subscription for exclusivity.
Better prices
Different tiers

Build a Box

Customers choose the products that go into it.
Mix and match.

Convertible

Small size auto-upgrades to large bag recurring.
Large purchase includes a small recurring subscription.
Here's a great example of social proof being used to sell Pura Vida's subscription product: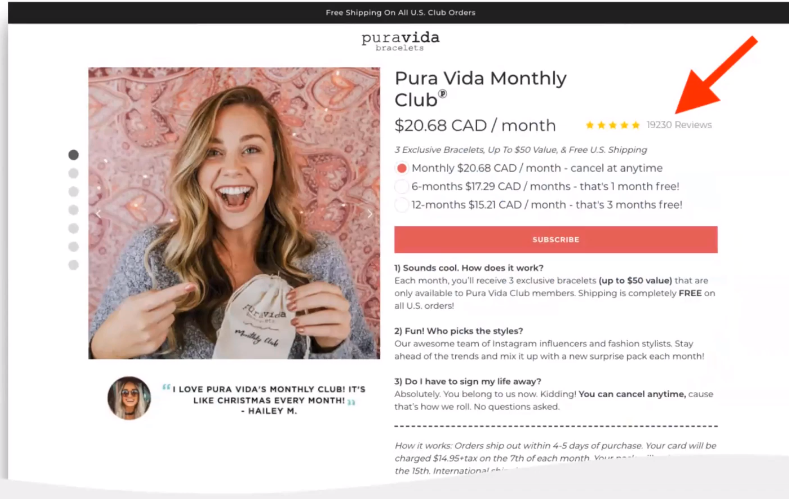 5 Ways to Fight Rising Ad Costs
By Martyn Cook, Co-Founder TrustAds, Cartels Mastermind
Having launched a handful of Ecommerce brands himself, and now Co-Founder of a tech tool focused in helping advertisers scale their campaigns, Martyn has seen a lot of failures and successes in Facebook advertising. Here are the 5 ways to fight rising ads costs.
1. Launch More Ads
While it seems simple, Facebook rewards good engagement. By launching more ads, you're likely to find and keep relevancy high.
Focus your ads more on post engagement, and then tweak them for conversion. Your first or second line should be an engaging question that encourages a comment or tag. Then pin your CTA as the first comment, instead of in the ad itself. Bonus: Private message the commenters, perhaps using a tool like Octane.AI, so that you can build them into a Messenger list and follow up flow.
2. Retargeting
Here's some quick wins with retargeting:
Increase the periods you're retargeting for - 30d minimum.
Directly address common purchase objections.
Use manual retargeting, by URL, AND Auto-retargeting with product catalogue ads.
Segment by product and stage of funnel: visited site, visited product page, visited cart, visited checkout.
Add Criteo.com to the mix.
3. Switch to Lifetime Value Model
Lifetime value = Average Order Value (AOV) * Average Number of Transactions
To boost Average Order Value, try any number of these:
Pre-purchase upsells
Post-purchase upsells
Cross-sell other products
Product bundles
Bulk discounts
Incentivize free shipping
Personalize their experience
Optimize your ads to higher spending customers
And to boost your repeat purchases, try any number of these:
Have an AMAZING product
Sell more consumable products
Allow customers to subscribe to the product
Build a rewards program
Retarget ex-customers
Email/Messenger/Push notifications
Outbound Phone and SMS marketing
Include discount coupon in product packaging
Make repeat purchases easier for your customer
Reinforce your branding
Bid on your brand name for search
Great customer service
Exceed customer expectations
4. Leverage Smart Rule-Based Automation
Use these 5 rules to cut ad spend by up to 20%:
Early Warning Rule (Engagement)
Early Warning RUle (Purchase Cost)
Ongoing Maintenance Rule
Scaling Fast Rule
Re-activate (late attribution) Rule
To learn more about the rules, watch this video:
5. Leverage New Traffic Sources
All ad platforms go through these 6 stages:
Establish ad network.
Early adopters sign up.
Word spreads and the network rules get beefed up.
Competition gets fiercer and costs begin to rise.
Demand and competition are causing strict rules, security patches, profitability is suffering.
Market reaches equilibrium and advertisers move on to the next platform.
Consider using Snapchat as the next best advertising channel. It's untapped, unsaturated, cheap, targeted, worldwide, unique, and the future for Facebook advertisers. Martyn says that now is the time to make the move to Snapchat.
How to Turn Customer Service from a Cost Center into a Revenue Generator
By Phil Roireau, Head of Partnerships and Events, Gorgias
The goal of customer service in 2019 is to:
Automate as much customer support as possible.
Be on all the channels your customer expects you to be on.
Monetize customer interactions.
Automating Customer Service
25% of Ecommerce customer service inquiries are solved with 1 touch. And 35% of them are order status inquiries. So if you can use Shopify variables in your canned response macros, you can respond to the most common questions within 1 minute, or even allow it to be completely automated:


Monetize Customer Interactions
People are commenting on your ads, on your posts, and on your site (through on-site chat). Are you monetizing them?
How much revenue is being lost by the brand not responding to customers in this thread (which is on an ad by the way)?
Responding with a 10% discount code, in a timely fashion, will drive big boosts in return on ad spend (ROAS) and conversion rate, and can increase the relevancy of your ads (through increasing comments and engagement). Here's how easy it is:
The same tactic can be applied to Messenger Marketing, SMS Marketing, and On-site Chat.
When done properly, you can track the impact, using a tool like Gorgias, to understand which support agents are closing the most sales:
How to Use Customer Service to Scale Your Business
By Vincent Phamvan, Head of Growth, Simplr.AI
50% of US consumers have abandoned a purchase due to a poor customer service experience. Are you wasting money on acquisition costs, struggling to improve conversion rate?
Maybe improving customer service is the secret to solving your acquisition problems.
Building Your First Customer Support Team
In the early days, it's very important that you're doing customer service yourself. Think of the "Head of Customer Experience" not as a person, but as a role, which could be filled by the CEO, the Head of Ecommerce, or whoever is in charge of the brand.
When you hit a certain point, you are going to need to hire help for managing the overload of customer inquiries.
Your first hire should not be a support agent, but a support lead or manager:
The biggest mistake you can make is going to far out too early, such as hiring on Upwork or hiring a virtual assistant that doesn't know how to upsell, how to use the brand voice, etc.
Voice/Phone Support: Should You Have It?
Should you be on voice? Voice conversations can cost anywhere between $1 and $2 per minute and clearly favor ecommerce stores that cater more towards older generations:
But the truth is, voice is for all businesses at a certain scale. And voice/phone is used as a channel for escalation of an issue, to resolve more complex issues quickly.
Live Chat is Mandatory
Customers that engage in live chat are 300% more likely to convert. As you're going about building out a live chat functionality, you need to think about how to automate the beginning of your interactions, while having live agents ready to take over when automation can't help.
Funny thing about staffing for live support: Most companies run their support team approximately Mon-Fri 9-5.
But most sales occur around 8PM on weekdays.
Rethink your staffing hours and consider 1PM - 9PM work hours.
How to Make Your Customers LOVE you, and Why Every Brand Can Do It
By Alex Reed, Co-Founder and CMO, Trumans
When sourcing products and deciding a new category, Alex looks for boring product categories, and then he looks to spice them up.
He did that at Big Ass Fans, and now he's doing that at Truman's, focused in making house cleaning products cool.
To turn the names of the product, the instructions, and everything else, into an enjoyable learning experience.
Everyone hates cleaning, why wouldn't we introduce a little bit of light-heartedness into it.
Bringing the Brand into Live Chat
An ordinary interaction isn't enough. Truman's focuses on bringing their brand voice into every customer interaction:
Romain Lapeyre, CEO Gorgias, Interviews Sam Venning, Founder YCommerce
By Romain Lapeyre, CEO Gorgias, and Sam Venning, Founder YCommerce.
Sam has started multiple ecommerce stores, including a makeup store that scaled to $1mil in revenue in its first 3 months.
But he admits that it was a terrible customer experience. Slow delivery time via dropshipping, etc.
Now, he's focused completely on customer experience with a premium dropshipping partner in China, an in-house video team, and in-house customer service.
Starting in dropshipping today is impractical, except for testing products and finding the right partners. You have to make a product innovation or a unique sourcing partner that can help you provide a differentiated experience.
Aggressive direct response ads are not working as well as they used to. Instead, you need to give the customer a realistic experience, to get them to become loyal, as well as to keep from building haters that may spam your ads with really negative comments.
How do we fight rising ad costs?
It's all about adding value to the consumers life. Whoever can pay the most for a customer, wins. How do you offer so much value that the customer will come back, again and again?
It turns out, aggressive sales and upsells end up pissing the customer off, leading to a burnt business. Instead of trying to make money on day 1, Sam now focuses on providing immense value up front, and seeing the revenue come in over time, by providing that stellar experience.
Final Thoughts
I was so touched by one of the comments I got about our last event, I just have to brag about it:
"That was the most excellent group of presentations that I think I have ever heard. It was too much to take all in, and I can't wait to get access to the videos again, and the slides. They covered so much ground, gave really great information (not just a sales pitch for their company), showed how much value and power these tools could have, and more. I was really impressed."
- Dave R.
This is why we do this! I hope these sessions give you the tools and tactics you need to take your store to the next level. And I hope to see you at the next virtual summit. You can check here for details on upcoming events.
About the Author
Derric Haynie is the Chief Ecommerce Technologist at Ecommercetech.io – Where ecommerce stores go to research, discover, and buy the right tools to grow their store. Derric is on a mission to do a demo a day until he's researched every tool in the Shopify app ecosystem. When he's not doing that, you can find him speaking, networking, or grabbing a drink at any of your favorite ecommerce events.