Personalized products have gotten a bad rap, with tacky keychains and embroidered pillows reading something like "If you can dream it, you can do it" offering the ultimate in kitsch, yet sacrificing the style fashionistas crave.
But haven't you always wanted to create your own customized clothes that suit your style, broadcasting seminal quotes you love or inside jokes between you and your friends?
If you answered yes, then you're not alone. Several years ago, Aubrie Pagano, who continued to come up short when looking for innovative clothes and accessories, was asking herself the same question. And instead of waiting for someone, someday to create the products she was dreaming of, she decided to take matters into her own hands, founding Bow & Drape in 2015.
A trip to their website is a treat for anyone looking to sass up their style. With everything from T-shirts to tanks to tote bags, customers can choose to customize their own lettering with sparkly sequins or sleek embroidery, or choose from ready-to-wear garments with tongue-in-cheek phrases like, "If you don't have anything nice to say, text it."
After just three years on the market, Bow & Drape has all but conquered the millennial market of customization, and is now looking forward to see what's on the horizon. We talked to Aubrie about the inspiration behind the company and what she loves most about running a fashion brand.
A 'Get it Girl'
Aubrie was just 26 when she started Bow & Drape. After graduating from college, she worked as a financial analyst and business consultant for Fidelity and XFactor Ventures in New York City. Eventually, a business idea began to form.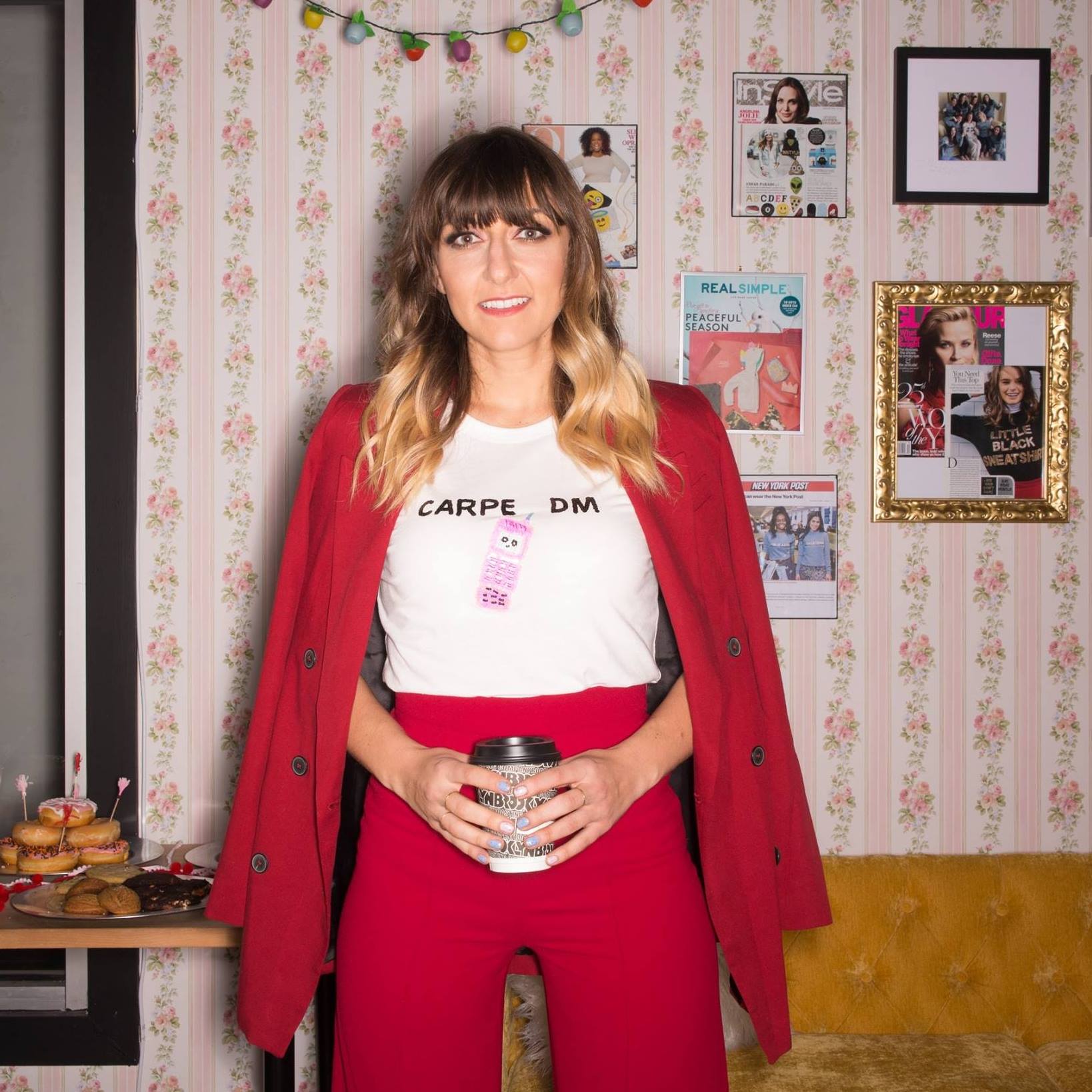 "I saw in the market that people wanted more personal, expressive products, either for themselves or as gifts. And I just didn't see anything cute! There's really cheap personalized stuff, but there's nothing really fun or quality; the market it just screen printed T-shirts and gross coffee mugs! I thought, 'why isn't anyone taking advantage of this'?"
After working on her idea for eight or nine months, Aubrie contacted Shelly Madick, her former roommate at Harvard, to hop on board. They initially chose the name Bow & Drape as a reference to dressmaking terms, thinking they would center the business around dresses.
However, they soon came to realize that dresses weren't in line with their target audience. Millenials like herself, she says, actually wear more hoodies, T-shirts, and jeans than anything else, so they quickly adapted their product to reflect that.
Bow & Drape launched in 2015, starting out online and expanding into retail outlets like Nordstrom's. They are now featured in over 300 stores across the country and have ten full time and ten part time employees, an amazing feat for a business owner who has barely brushed shoulders with 30.
"It's really been an incredible journey," Aubrie says, "and one that I didn't think would be so successful."
Aburie's quirky style and wacky sense of humor can be credited for the brand's unique, slapstick voice. Aiming to create a product that was fun and stylish yet made for the individual, she spearheaded the content creation from the start.
The resulting product is a testament to Bow & Drape's hard work from a branding perspective, says Aubrie.
"Culturally, people understand who our customer is and we've built a very strong brand guideline and brand voice that people can replicate."
Although the team has occupied different offices, first in Manhattan and later in Brooklyn, being headquartered in New York was never debatable.
"New York was definitely the place to be, not just because of being close to the garment center, but there's editors and influencers here that matter, there's content here, there's just an ecosystem here that's nonexistent in, say, Boston, for example. And I think it's really helped propel the brand."

Customization, On and Offline
For their online store, all of Bow & Drape's customization is done in under five days in Brooklyn, and most products arrive within seven days. In the stores, however, customers can decide on their text, style, and garment and the customization is done right on the spot in about 10 to 20 minutes.
"It's kind of making good on this vision that we had, which was that we could be like a Pandora of Fashion," Aubrie laughs. "It's the same idea, but with quality fashion, where someone can come in and get a gift – a sweatshirt, a makeup pouch, a journal – really quickly. It's super experiential."
Whereas many ecommerce outlets struggle with their own in-store strategy, Bow & Drape offers an enjoyable experience that works equally well on and offline. Although only a handful of stores offer full customization, the rest offer fun, ready-to-wear hoodies and T-shirts perfect for adding that splash of fun to any wardrobe.
Their approach to customization extends not only to the customers but to their retail partners.
"We actually work with each retailer to come up with a custom assortment," explains Aubrie, "which is also nice for them because they want exclusive products and for us it's very easy to do."
With three years worth of data detailing the different types of customers who might be interested in their product, Bow & Drape can collaborate with department stores or boutiques they are working with to come up with the right assortment of patches or lettering to fit their clientele.
Personalization, Aubrie predicts, is truly the future of fashion, and it's only going to keep getting stronger.
"It's now become a massive trend. We were one of the early proponents of this and now there's tons of customization activations with individual brands as well as stores."
The question for them from the beginning, she says, was how to make the model economically viable. This is where her partnerships with retailers proved to be particularly helpful, allowing them to experiment with different models of collaboration, including who pays for staffing, who pays for the equipment, how much should they be staffing, etc., resulting in a fruitful partnership on both ends.
"For us it was a really great testing and learning ground where we didn't have to put up a lot of capital, and we didn't have to be responsible for getting traffic in stores; we could just test what worked. And they've been really receptive and supportive. We've had amazing experiences with each store."
Empowering People to Express Themselves
Aubrie's driving passion is working on the creative side and developing the products, developing the phrases, and coming up with innovative content. However, her other favorite part of the job was one that took her off guard – that of building a great team and fostering an excellent company culture.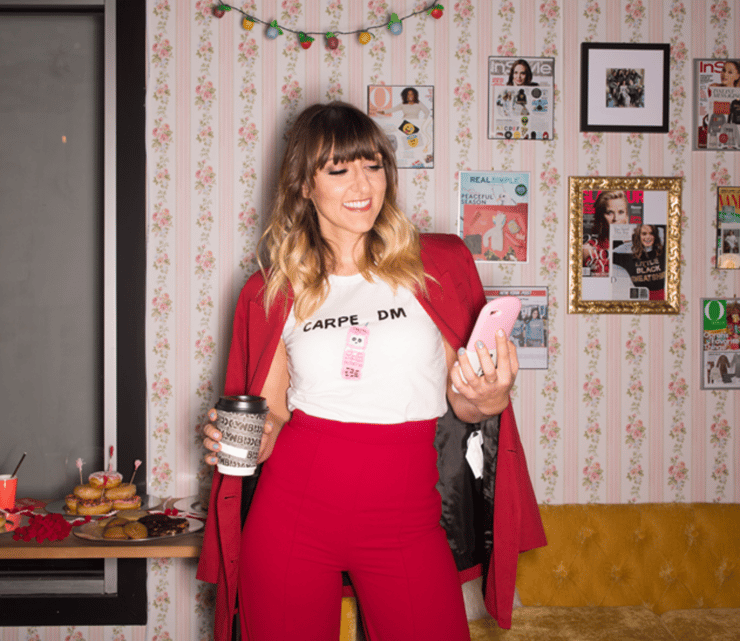 "Having a really awesome team of people who all really like each other and are really fun to see every day – that is a really cool thing to have built," she says. "That's truly the secret to our success – having an amazing team."
For an entrepreneur with Aubrie's business savvy and creative spirit, we're not surprised that she has lots in store for her company.
"I hope that we can keep empowering people to express themselves and that we create this destination offline in almost every city where customers can come in, drink champagne with their girlfriends, and create whatever they want, whether it's bachelorette gifts or team gifts for their team or come in for a birthday party or just pop in to see what's new. If we can create that as a destination in the community where people can come and feel like that's a part of their journey that would be a huge success."
So whether you're looking for french fry patches or custom phrases, cheeky hoodies or inspirational tank tops, check out Bow & Drape's collection today, and get your stitch on!
Are you growing your ecommerce business like Aubrie? Learn more about our ecommerce marketing tools.