Every year it seems, some new technology announces the end of email, FOREVER! Email was supposed to die 10 years ago with the rise of the social network. Facebook, Twitter, Linkedin, and to a lesser extent Myspace envisioned a world where ALL communication would funnel through their platforms. We all know how that turned out.
Since social media didn't kill email, year's later, messaging apps like Slack, Facebook Messenger, and WhatsApp were next in line to take out Email. Here we are in 2019 and email is as strong as it's ever been. With literally endless data points to trigger events, email is truly the only agnostic marketing channel around.
Going into 2019, there is more opportunity than ever to leverage the power of Messenger & email together.
Email & Messenger for Automation
As technology gets better, I'm expecting the platforms to share data better. Listening for behavior on Messenger + Email will be a game changer in figuring out customer behavior for your business. Facebook doesn't share purchase data. Fear not! The Email CRM has that invaluable information. Knowing this data allows you to send Post-Purchase follow-ups on both Messenger and Email. In addition, if a user unsubscribes from one channel, you can still target on the other.
For example, most of my Messenger funnels model email. Here are a few I like to implement right away.
Welcome Series
Abandon Cart
Review
Shipping Notification
Order Confirmation
I like to run the above automation flows on Email and Messenger at the same time. They are high intent flows that most subscribers are interested in receiving. Most people's inboxes are flooded with spam or emails of little interest to them. Messenger cuts through the spam issue by delivering high intent messaging directly into a user's inbox.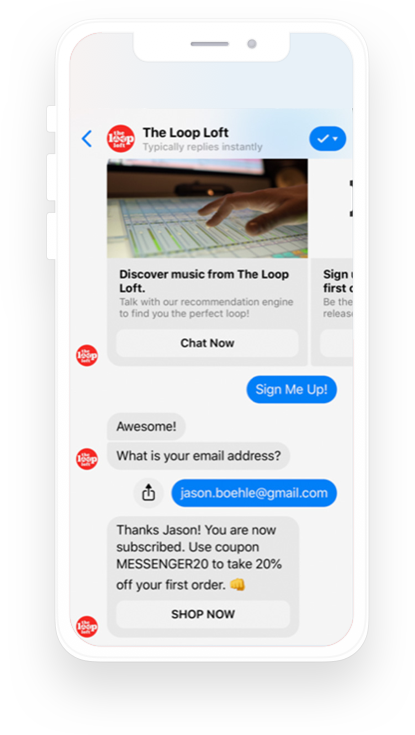 Furthermore, I like to use Messenger and email as an acquisition tool for each other. A strategy I used in late 2018 is to auto-trigger a conversation that requests an email address. That email address syncs over real-time to my email-marketing platform. On the flip side, an email campaign with a strong incentive can be used to grow your Messenger List. We did this as well with good success!
I'm a big fan of sending as much engaging content as possible across multiple channels. The main difference here is the type of content. Email typically uses longer form content while Messenger implements short sequences that include emojis, short videos, memes and GIFs.
Email & Messenger for Campaigns
One-off campaigns for Email and one-off broadcasts for Messenger serve the same purpose. The purpose is to give notifications or send an advertisement.
Unlike email where you CAN-SPAM (as long as you don't get kicked out of your email service provider or served a lawsuit), Facebook limits promotional sends to people who have engaged with your bot in a 24-hour timeframe. Furthermore, in 2019, they might take free promotional broadcast out completely and replace with a paid model.
You can, however, send as many subscription blasts (non-promotional content) as you like! (assuming your unsubscribe numbers are low!) Create one-off subscription messages to restart the conversation with your audience and build a relationship of trust. Subscription messages can include:
Quizzes
Contests
Polls/Surveys
New Product Launches
Request for Customer Feedback
Company Updates
Consider sending campaigns on both channels to see which one your users are paying more attention to. Though Messenger does receive 4X+ higher engagement, it also receives a similar increased unsubscribe rate ratio. Email, on the other hand, will give you less engagement, but more opportunity to send a higher frequency of campaigns during peak buying seasons.
Leverage the power of Email and Messenger together to engage the customer and increase sales for your brand. You need every marketing dollar to count in a competitive eCommerce world.
Want to see examples of leveraging Email and Messenger together? I recently completed two case studies of companies that used Email and Messenger with great success.
About the Author
Jason is the founder and CEO of QuaGrowth. QuaGrowth is on a mission to provide the world's most advanced email and messenger marketing solutions. We are a chatbot agency and email marketing agency located in Santa Monica, CA.