'Coca-Cola', exclaimed a fairly dignified man with authority laden in his voice, 'is a most euphonious name for a beverage: the alliteration rolls off one's tongue perfectly.' Then, the man proceeded to pen down the iconic Coca-Cola logo in popular Spencerian Script.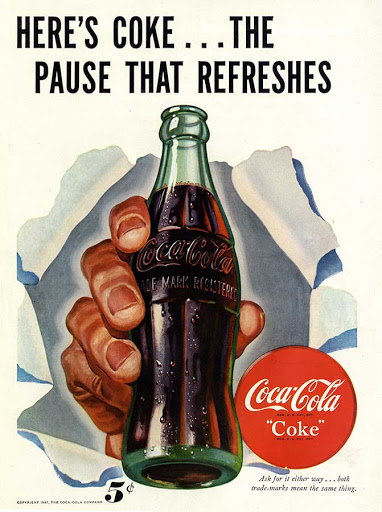 The matter was indisputable: the first seeds of the humongous brand were sown. This man was Frank Mason Robinson, bookkeeper to the inventor of the drink, and pioneer of the unmistakable Coca Cola branding.
The classic logo is plastered across restaurants and cafes over the world today. But when exactly did this shift from a regular beverage company to the most recognizable brand on earth happen?
The answer, unsurprisingly, is not owed to one single point in history. The brand only developed with age: only when processed through years with multiple brand-enhancing campaigns did Coca-Cola become as iconic as it is today.
What are we, as small to middle ecommerce businesses to learn from Coca-Cola's gradual but undeniable brand building? The first thing to realise is how a strong brand identity is built as an accumulation of efforts and campaigns and risks and ideas.
Let us delve further into how we can engineer branding and what it exactly is.
Branding is invisible - sure, your logo design and name and color palette play a role in it, but adding all of these components will not give you a brand personality.
Think about shoes. You immediately also think about Nike or Adidas. You envision athletes and sports right after. It's not just the logo or their ads. It's their message through their communication that allows for the companies to be more than shoe sellers.
Okay, what about Tesla? Doesn't the name now tag along with smart technology, innovation, cutting-edge changes and environment friendly? These are words that people automatically responded with when we asked them what Tesla conveys.
The point is - as a small business aspiring to go big, connect these adjectives to your brand. That creates your brand identity, which is a major part of your branding.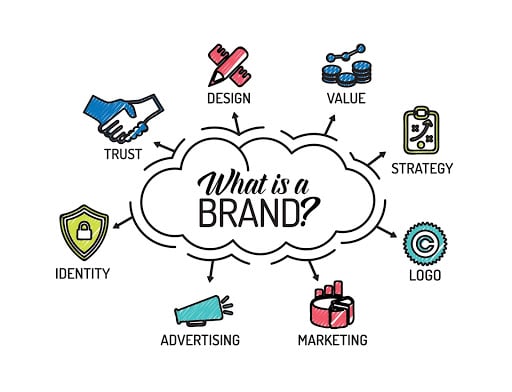 Image: thinkthrive.com
Each of these companies bring a feeling, an emotion, a fully formed idea of what the companies represent to our head that is unique and distinct. Branding is your relationship with the world- your customers. If you hit the right mark with branding, all your other troubles will fade away.
We will jump right into how you can consciously start a butterfly effect in multiple directions: tiny ripples that will eventually turn into waves for your brand.
First let us get the basics out of the way. We call this section: What not to mess up if you want to build a successful brand!
Your Product or Service: Let's begin with the most obvious one. Branding in ecommerce begins with the products or services you offer. The choice of a niche is your first step towards building a brand. Your brand identity will differ strongly if you choose to sell Halloween outfits vs if you choose to sell body mists. Choosing a niche encompasses a number of factors, right from determining products that have gained speed and are well-liked, to navigating personal preferences: products that are steady in the market are often best suited for e-commerce.
In each sphere, you must first do competitive research: The first step to doing competitive research is simply entering the common keywords that define your business in google, and check out the results.
Create a list of your competitors. (BuzzSumo will help!)

Make a list of features that you must keep a lookout for, in terms of branding. Their colour choice, their voice, their email templates, their social media, their product offerings, their choice of words: everything we have listed in this article.

Be a customer for your competitor and find out which parts of the customer experience are lined with friction, and which parts shine out.
This will allow you to gain a footing with your own brand strategy. Every step that your competitor fails to make a mark is an opportunity for your brand to step in.

But this entails far more than simply identification of your competitors weak points: your products must assure quality, shipping time along with reasonable rates. For this purpose, you need to partner with suppliers that are verified and trustworthy: such as ones you can find on Spocket. With deep discounts and guaranteed quality, unnecessary damage for your brand can be averted.
Customer Service
The importance of customer support cannot be understated. When the words 'best ecommerce brands' are planted in front of you, your brain most likely spells Amazon, and the reason behind it is their impeccable service. The ecommerce site is not just a conglomeration of products: it is an entirely customer centric company, with painless navigation, easy returns and prompt customer support.
If you have ever spoken to Amazon about a difficulty faced while availing their services, you will know what we mean.

They have built their brand persona as a global customer-friendly one-for-all space for e-commerce. Your customers bear the same service expectations from you: clear, easy and quick. There are no buts when this is concerned.
Now that these two hinder-ers are out of the way, let's dive into building a brand identity 101!
The Visual Experience
Your logo. Your colours. Your website. Your ads. Your emails.
Colours have a huge impact on how people perceive your brand: Visual information is processed thousands of times faster than any other type of information: this means you can hit the right spot with just visual information before they even proceed to step 2. This is your first impression- do not make it your last! Read about colour psychology and how you can drive humans to certain actions by subtle usage of colour! Make your big bold ideas stand out using the isolation effect!
The old, repeated aesthetics may trudge you along- but if you really want to make something radical, go all out with your creative muscles. Find out more about your target audience - their interests, their age, their gender: craft your site to intrigue all visitors, and convert the target audience.
For example, have a look at advertisements by Slack, the leading workplace communication app: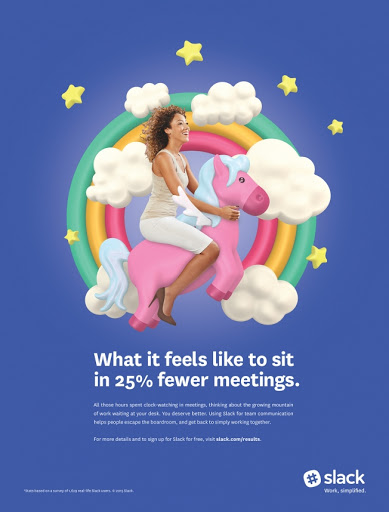 Their brand comes across as efficient and smart - while also being fun: it symbolises collaboration and pleasant, hassle-free work - and how?
By using illustrations that might as well be picked from My Little Pony and coupling them with our idea of corporate employee: building a brand is about conscious choices.
Or look at Maggi - they have a fun, creative aspect to their ads, and their voice is casual.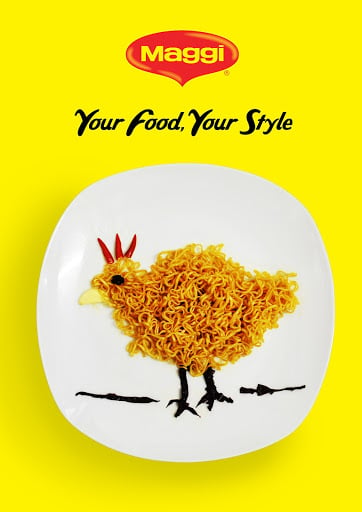 Running an ad with product images might get you the off-chance customer, but to retain them and get them hooked, you need snappy copy- you need something that catches the viewer off-guard. Unless you do that, the market has enough retailers selling similar products.
You might want to consider having unique products to show as well!
Your Story
Your customers are human (we assume?), and humans love connection. They want to know the history behind the products they use, they want to peek behind the scenes of the stores they buy from.

As a small business, this is your definite advantage - an underdog story is loved by all. Start from your roots:
Who you are: Don't be afraid to let them know that you are an ordinary human. People love knowing the person behind the business and it adds trust to the brand.
How you started: What prompted you to begin your store, and why it is important to you!
What your goals are with the ecommerce store: What you plan on achieving with the store- and what you give back to the community through your store.
Why choose your store: What differentiates you from all the others- this involves your brand promise ie. an assurance to your customers, such as the added bonus that 50% of your proceeds go to a Dog Adoption charity.
Hope + Stone does a great job of introducing the owner, weaving the store into a story and finally revealing the 'Soul Purpose' of the store. Considering their target audience is people who are soul-searching and trying to find peace amidst busy lives- the bio allows them to connect to the retailer who mentions her own experience and how she found Yoga.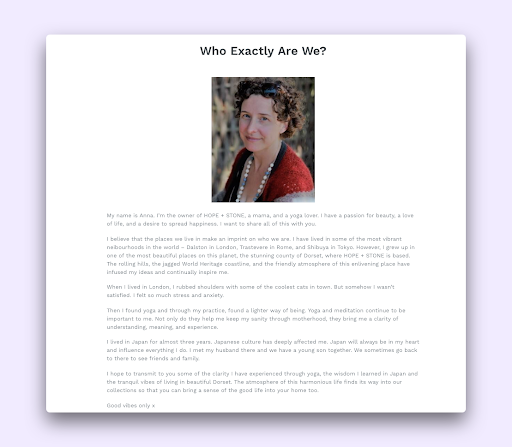 Your Ideals and your Message
Your ecommerce website is the homebase that provides your customers everything they require to know about you or your products. Your ideals are what drives you to create a store and sell: what your mission statement is.
Infuse your message with passion and set yourself apart with this: your competitive advantage is your passion and how convincing you are while selling it.
Have a look at how Starbucks pairs up emotions with a cup of coffee: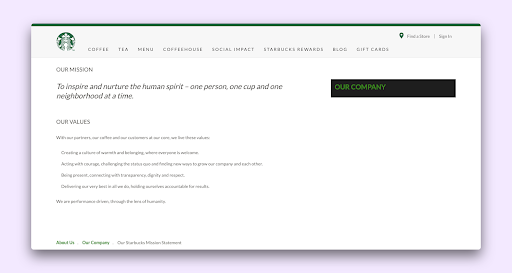 The expectations you set
Set no unrealistic expectations: these will only disappoint your customers when you are unable to meet them. This especially applies to return policies and shipping times. Be clear and explicit about how things work around your store. Keep it professional and be extremely clear in your offerings.
No great brand is ever vague. You don't land up on Apple's website unsure of what they sell or how they operate, even if you have never heard of them ever before. Keep it real!
Consistency
Imagine Denny's Diner. Their content- if you have missed it, here's an illustration: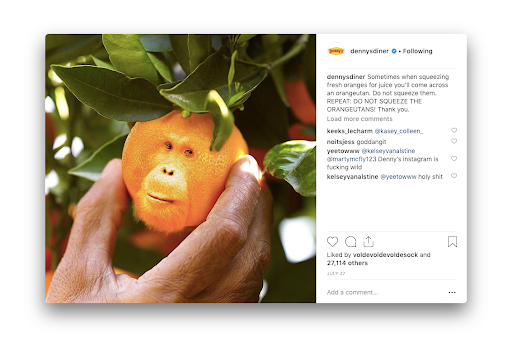 Now imagine a company like Versace started styling their Instagram in a similar manner. NOPE.

Their whole brand is pivoted as a high-end, classy clothing line- and this would be incredibly incompatible with their image. Your branding too, has to be consistent with not just your products, but other media where your brand is represented.
Your website, your instagram, your blog, your ads- be consistent throughout with your voice and your message.
With Spocket, you can even brand your product packages while dropshipping: add your personalised invoices to your packaging with a message that connects to your customers!
If you're a free-spirited, uplifting brand that people buy from owing to how inspiring you are- stick to it! Own it!
Unique Marketing Strategies:
This is a wild open field and you can do literally anything. By anything I mean ANYTHING. Something as low budget as starting a challenge on Instagram, OR something as crazy as this: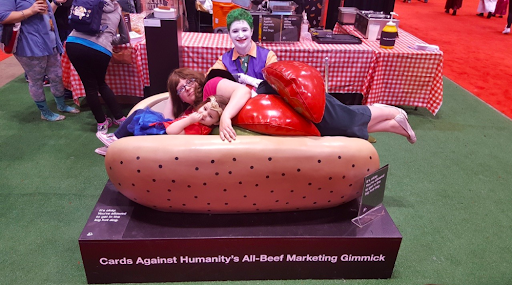 But everything needn't be as dramatic as the things Cards against Humanity does- although their branding is perfect: the consistently absurd, eye-grabbing marketing tactics, the satirical tone of voice combined with an interesting product.
You can try something like Colgate when it launched the Slim SoftTM/MC toothbrush in Canada: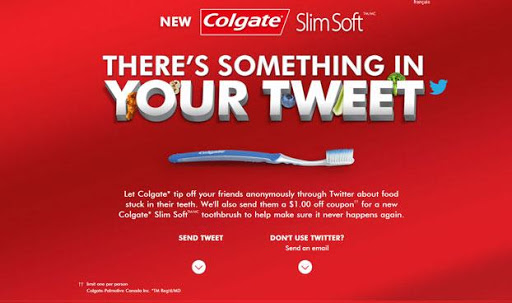 Get people engaged with more than just your product- use your email lists as a community. Start a Facebook group centred around the primary theme of your store. Build connections- speak to your customers!
Of course, branding is a never-ending process that works in mysterious ways: all we can try is reverse-engineer it and give the butterflies a chance to work their magic!
Isha Mandloi is a Content Creator at Spocket, an e-commerce solution set to solve the trillion dollar inventory distortion issue, one entrepreneur at a time.