5 DTC Brands Doing Messenger Marketing Right in 2019
Facebook Messenger marketing has become very popular over the past 3 years. Many Direct To Consumer brands (DTC) implementing it have seen significant results in driving revenue, automating support and increasing customer satisfaction.
Messenger marketing is all about having meaningful conversations with your current or potential customers at scale to build relationships and sell to them.
Many brands are doing it wrong and are getting shut down by Facebook. There are a select few brands that are doing it right and this post is going to walk you through how they are doing it and how you can take action on Messenger marketing, the right way, right now.
The Messenger Platform For DTC Brands
Over the past two decades, we've transitioned from other forms of communication such as phone, mail, and email over to messaging apps.
This is the reason why messaging apps are the most downloaded apps in the entire world and they also have the most amount of monthly active users.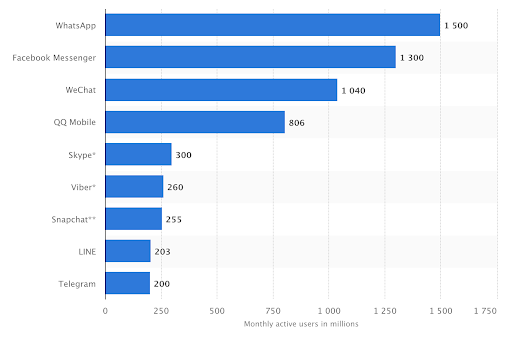 The Facebook Messenger platform is one of the biggest and most engaged channels out there. With over 1.3 billion monthly active users, mostly in the United States and Canada.
I recently spoke at the biggest Messenger marketing conference in the US, Conversation Conference, and had the chance to speak to the Head of Business at Facebook, Stefanos Loikakos.

Loikakos confirmed that Facebook Messenger has crossed over 1.4 billion monthly active users.

In 2016, Messenger allowed marketers, to market to its 1.4 billion monthly active users. Brands can have pre-scripted conversations with their customers on autopilot and generate hundreds of thousands, if not millions of dollars in sales while doing so.
Let's get into the specifics.
Direct To Consumer Brands Using Messenger Marketing
Since 2016, many e-commerce brands have added Messenger to their existing marketing channels.

Fashion Nova, MVMT, FIGS and many more have started to leverage Messenger Marketing and are driving significant business outcomes. Ecommerce marketers using the Messenger platform as a marketing channel are seeing 5 things:


15-20% E-Commerce Conversion Rates (10X compared to Email Marketing)
80% Open Rates on broadcasts (4X compared to Email Marketing)
30% Click-through Rates (10X compared to Email Marketing)
33% average AOV Lift
146% average LTV Lift
I've researched and tested over 100 brands and have found 5 brands with trackable results:
Apt2B
FEAT Socks
Fashion Nova
MVMT Watches
Transparent Labs
In the next section, I will walk you through the top strategies these brands are using and how you can do the same.
How Apt2B Uses Facebook Messenger Marketing
Apt2B is a brand that sells affordable modern furniture. They are doing something unique which is combining Messenger marketing and email marketing.

Messenger marketing is very similar to email marketing. You build a list, nurture and sell to the list. Where email marketing falls short is the Open Rates, Click-through Rates, and Conversion Rates. Messenger gets 10x the results all across.

That doesn't mean you should stop doing email marketing if you decide to get started on Messenger marketing.

Combining both is the best possible way to get results. This is what Apt2B is doing here.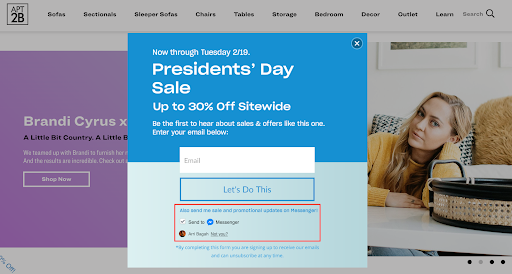 They installed a Messenger widget on their email popup. When a user subscribes to their email list, they also get subscribed to their Messenger list. Yes, it is Facebook and GDPR compliant.

They can now communicate with that customer on both email and Messenger and have a higher chance of reaching that customer.


How FEAT Socks Uses Messenger Marketing
FEAT Socks is a brand that sells socks, hoodies, and hats. They are leveraging a standalone Messenger popup to build a list of potential buyers.




This popup strategy may seem too simple but it's not. When a user subscribes through this popup, FEAT Socks can do cool things like trigger abandoned cart messages to that same user.

It's an excellent way to build a fast growing Messenger list and recover abandoned carts.


How Fashion Nova Uses Messenger Marketing

Fashion Nova is the fastest growing fashion store for women and men. One of the most popular ways to use Messenger marketing is to recover abandoned carts.

Fashion Nova is generating a significant amount of revenue with this strategy because, well, they get a lot of traffic to their site. The more add to carts you get, the better.

Fashion Nova installed a Messenger checkbox under their add to cart button. When a user adds to cart and does not checkout, they receive a message from Fashion Nova thirty minutes later with the same product they had inside their cart.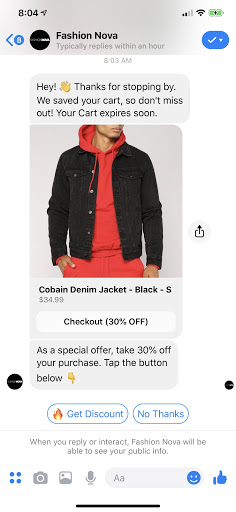 From my clients, the users who receive these messages convert at a 15 - 25% conversion rate when they come back to site.
How MVMT Watches Uses Messenger Marketing


MVMT Watches is a brand that sells premium watches, sunglasses and accessories. MVMT is leveraging Messenger marketing through its Facebook page to have fun conversations that lead to sales.

Every Facebook page has a "Send Message" button and when users click that button you can set up a pre-scripted bot that sells your products in an interactive way.

In MVMT's case, they are leveraging a quiz to help the incoming user find the perfect watch.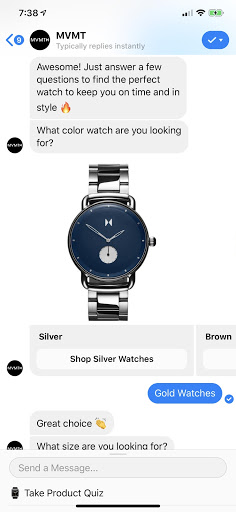 After answering a few questions, the user is shown a selection of watches they might like. They can click to purchase the watch in a Messenger's webview:


How Transparent Labs Is Using Messenger Marketing



Transparent Labs is a brand that sells a full suite of sports supplements. They are using Messenger to send order updates to their customers. Their customers can also at any time check their order status in the Messenger app.

Order updates are a great way to keep your customers in the know and minimize unnecessary customer service emails and calls.

Customers can opt-in on for order notification on your order confirmation page and get a push notification of their receipt and tracking instantly.


Next Steps
Messenger marketing is a very powerful marketing channel as shown. If you are an e-commerce marketer, it would be irresponsible for you not to be leveraging Messenger marketing right now.

All of the awesome strategies above can easily be set up by installing an app like Octane AI if you are on the Shopify platform. Octane AI is the most ecommerce focused platform for Facebook Messenger marketing.

If you are not on the Shopify platform, please reach out to us to get help.

Need help implementing some of the strategies outlined? Please join my secret Facebook group of top ecommerce marketers. You'll be able to ask questions and get support from me and other smart marketers.

About ROAS:

We are ROAS. Short for Return On Ad Spend. We grow revenue for Shopify Brands using paid advertising and Messenger marketing.We have clients ranging from Poo~Pourri, The Beard Club, Transparent Labs and more.

Secure Your Free Consultation Here.

Talk soon! ✌️