The best ecommerce software platforms are problem solvers. They help you accomplish things you could not do alone. Imagine trying to code a store from scratch instead of using Shopify, or creating your own email marketing software instead of relying on Mailchimp and Klaviyo.
There are a lot of new companies – and thus new platforms – launching regularly. It can be difficult to sift through the plethora of products that could help your store. So we talked with ecommerce experts and founders to find the up-and-comers.
Below, we feature nine revolutionary platforms that are solving emerging problems in ecommerce and helping ecommerce entrepreneurs with the future.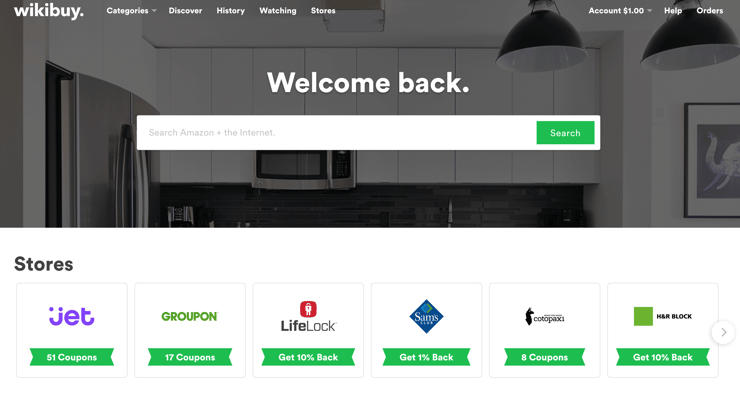 Wikibuy is a Chrome extension offering competitive pricing, coupon codes, and cash back on purchases around the web. IRL coupons are dense and often hard to navigate; Wikibuy's extension acts as something like a subtle market overseer, trawling the web for savings and comparing prices.
Once the price notification pops up, customers make their purchase through Wikibuy's servers. The company makes a small commission when retailers pay for its referral orders.
Jonathon Coon launched the platform in 2014 after leaving his previous venture, 1-800-Contacts. He's made it his mission to consult ecommerce owners, work with change agents within companies, and tighten up every touch point in the age of Amazon.
For companies looking to get into Wikibuy but don't know where to start, Coon insists there's no such thing as a dumb question or an unwelcome friend.
"We don't need to do a penny of business, but I'll still talk to you forever. Whatever we need to do to educate you on the processes…. whether you choose us or somebody else, I just want to be friends first, and we'll figure out the rest later."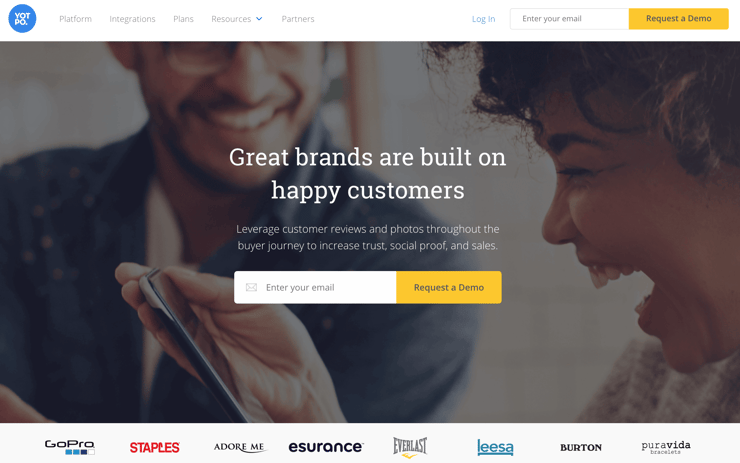 Yotpo is the leading platform in leveraging customer content – through user generated photos, reviews, Q&A's, videos, and more – for ecommerce brands. The company just received a $51 million boost in funding, and founder Tomer Tagrin has promised a broad investment in deep learning and artificial intelligence.
It's an ambition worthy of their portfolio – Yotpo works with 70,000 small to medium sized businesses, as well as larger companies like Staples or GoPro.
But artificial intelligence on its own is not enough, no matter the company. The first responsibility is for companies to build an experience that consumers love. AI is the way to realize those values, but it won't create them. Yotpo looks for clients that understand the brand urgency in the years ahead.
"It's not a question of if you'll survive – it's a question of when you'll die," Targin says. "If you want to grow in triple digit percentage in the next few years, you've got to use that technology. In terms of age, we've been seeing people anywhere from 20-21 up to 50 years old. In terms of gender, it's quite a 50/50 split. It's more a question of 'do they understand the urgency in a world that's changing super-fast?'"
Tagrin and the team at Yotpo are betting big on small business. SMB's can find solution with Yotpo at $50 per month or above. In Tagrin's world, its Amazon and everyone else.
"SMB's drive the growth of commerce in today's world. Amazon is not going to be a Yotpo customer. We want the rest."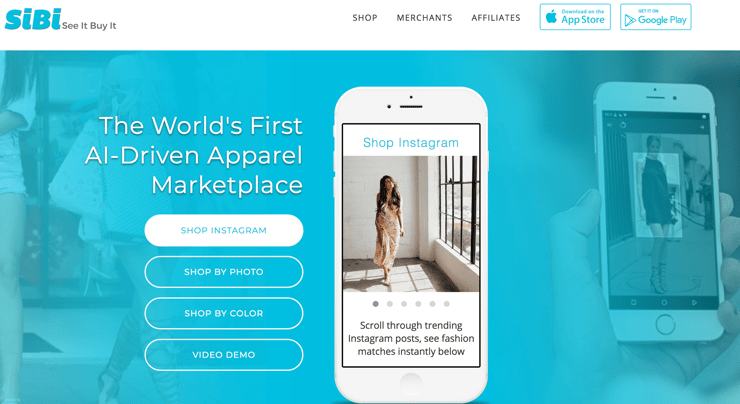 See It Buy It is a mobile-led, visual-search fashion platform that connects customers with Shopify merchants to find and receive hundreds of matches on apparel. Using the Shop by Photo or Shop by Web Image features, customers can find exact matches on a color or garment that caught their eye, whether in-store, in a magazine, or on a website.
The app uses deep learning to drive accelerated discovery, and the SIBI team can onboard Shopify merchants in five minutes, says SIBI CEO Joe Monastiero.
"We mirror Shopify's back end with every one of our merchants. We synchronize our inventory in real time to Shopify's inventory. So, we do like 10,000 web hooks per minute just synchronizing products. We're a real-time inventory management system with a $10 billion company."
The single objective, Monastiero says, is to use technology to move faster. SIBI is in a very crowded, Y-combinated space, but he's confident in their value proposition.
"We're the only turn-key, front to back, full inventory control system with checkout included – 100% AI based – apparel marketing place in the world," Monastiero adds. "The least well known company in the space that is about to take it over, I hope."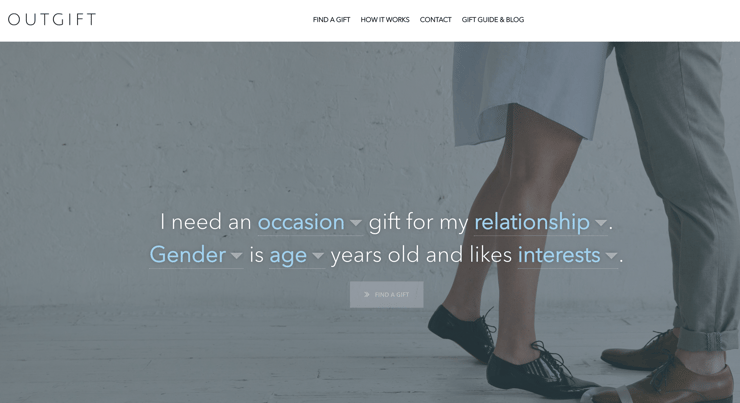 Outgift is "the thought that counts" for the thinking man or woman. Using algorithms and routine analysis, the company builds a personalized product portfolio to help you get the perfect gift for family, friends, and co-workers. The algorithm first considers the occasion and relationship between you and the giftee. Next, it weights their gender, age, and interests. Outgift then matches the profile with relevant – and unique – gift ideas from around the web.
"People would always come to me for gift recommendations. Two years ago, I thought, 'Well maybe I could provide a service dedicated to discovering new products and helping people find the perfect gift." - Alice Kittrell, CEO of Outgift
Version 3.0 is now up and running, and Kittrell has made visiting the site more of a shopping experience. Users are routed directly to a third-party to purchase a product. Because Kittrell doesn't hold any inventory, she's not beholden to pushing her own product on people. That kind of trust is essential for any gift giver.

Voysis is a holistic voice AI platform that's ideal for high-performing ecommerce owners. A voice-driven, natural language interface can help with customer search functions and shore up inventory, and Voysis is aiming to make the set up far less intimidating.
Voysis will soon be launching their first product, Voysis Commerce, an automated platform for ecommerce companies.
Peter Cahill, founder and CEO of Voysis, bills the product as an "Alexa for everyone else."
"It's essentially the equivalent of an Alexa, but one that knows their products and can talk to their website or mobile app about the products they sell: social products, order products, and so on."
In years past, if an emerging commerce owner wanted to add a voice integration onto their store, they'd have to deal with a professional service firm. It could be several years before an owner knows what they're going to get.
Voysis Commerce is providing a streamlined, automated solution to that.
"Once they upload their catalogue to us, it's a matter of hours before they have the AI available that knows their products, their names, and the natural language content so it can handle quite natural queries."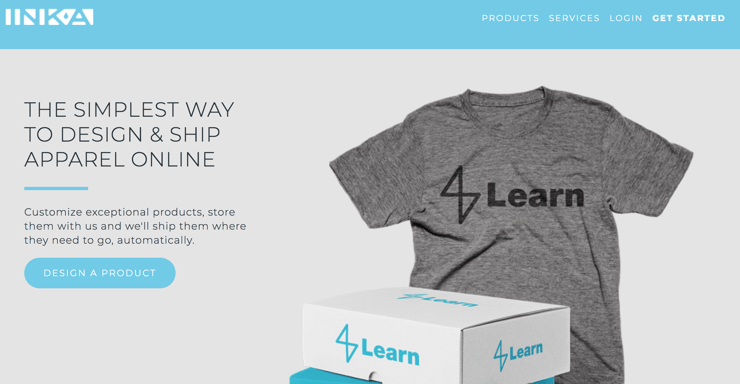 INK'A is a platform for businesses to produce and distribute custom apparel. Ecommerce companies upload their unique merchant designs, add them to the INK'A warehouse, then opt to sell and ship through giveaway, Shopify, personal dashboard, or automate with the INK'A API.
"You can get t-shirts printed anywhere, and there's third party logistics places than can ship stuff. But when you're a marketer and you want to create giveaways for people, how do you actually do it? So, we closed the loop." - Frank Denbow, founder of INK'A
The platform has earned a couple million dollars in revenue without angel or investor funding. Denbow routinely meets people who believe everything has been done in the t-shirt space, but INK'A is proving them wrong.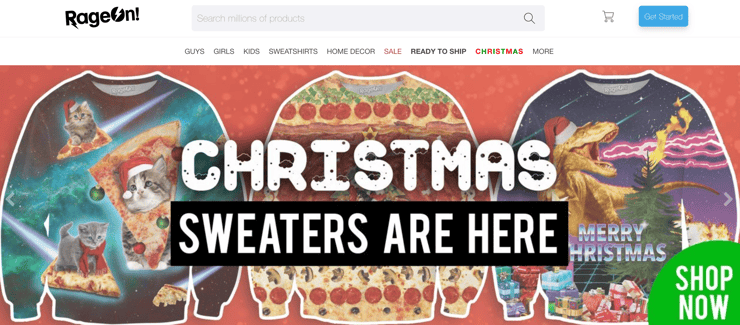 RageOn! offers on-demand, limitless printing at a cost-efficient price. It's a philosophy that's made the platform the world's largest all-over-print online store. The company has agreements with thousands of licensed brands, from Lisa Frank to High Times, and their app allows users to create and sell custom designs.
"For screen printing, the more colors you use, the more expensive it gets. And I thought, 'Well, that sucks. You're de-promoting creativity, right?' If you want to use more colors, you get penalized. What if you want to use all the colors, and you're not even limited by the middle of the shirt?" - Mike Krilivsky, founder and CEO of RageOn!
This is just the beginning, Krilivsky says. RageOn! is becoming a leader in the fight against copyright infringement. Working off license deals, the company (inspired by the Spotify model) has built an online portal through the Shopify app that allows over 500,000 stores to connect in and sync products to sell, free of charge. When the product sells, the licensed brand collects a fee.
"No one has anything like this in the world, and this is the future of merchandise," says Krilivsky.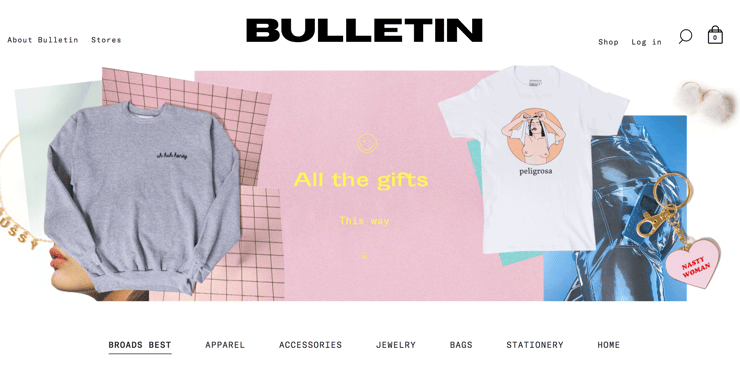 In a succinct elevator pitch, Bulletin is "WeWork for retail." The company provides brick-and-mortar space for female-led, online-only brands to feature their work and build community.
Bulletin was built with an editorial eye, so the relationship between brands is as important as any metric. Brands take home 70% of sales in the store, and the showcased items are often spunky and progressive.
"We try to create stores as these editorial, almost media-like destinations, rather than just an empty box with a bunch of different product categories thrown in there." - Ali Kriegsman, Co-founder and COO of Bulletin
"It's interesting to see the evolution of Bulletin and how elements of the first version of this magazine company that we built now manifest themselves in physical space."
Ten percent Bulletin's gross sales are donated to Planned Parenthood. A host of brands – like Warby Parker or Tom's – donate a portion of their sales to causes, but it's rare for an aggregate and retailer to have such a clear vision.
"Because we operate as a retail membership, where brands are paying a flat fee to sell in our stores, we already have a slight margin baked into that. Once we set our values as Bulletin, it became much easier to approve or reject brands that applied, and then actively pursue brands that sell online with that mission. We say 'Suit up for the resistance with Bulletin broads.'" Kriegsman says.
Things are always changing in the ecommerce world, so stay up to date by subscribing to Ecommerce Magazine.