For anyone in the digital commerce industry -- whether you're a burgeoning startup or a corporate giant -- sometimes the best way to optimize conversions is to hire an agency with years of expertise in the field.
Here at Ecommerce Magazine, we've compiled a list of nine agencies that are changing the ecommerce landscape, one store at at time. Each bring something different to the table.
Want to be included in our next ecommerce agency list? Shoot us an email and let us know.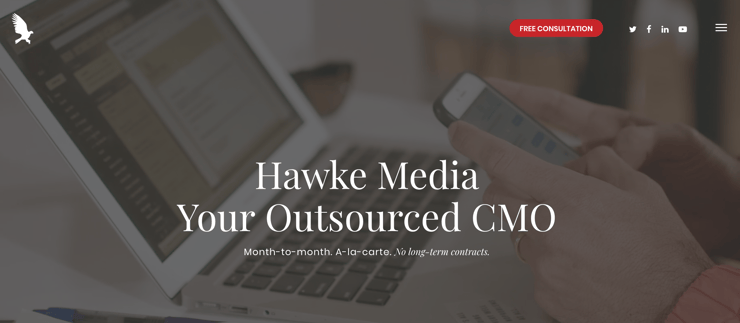 Four years ago, after having successfully launched and sold several ecommerce companies, Erik Huberman started consulting other young businesses on how to do the same thing. What he realized was that the market gap was bigger than he thought.
"98% of agencies have no clue what they're doing," explains Erik. "And the few that are good tend to be really expensive, want long contracts, or put up some other barrier that make them hard to work with. So I decided to hire my own team."
He started with just 7 people and offered his services on a month-to-month basis. The result has been stunning: "In 3 ½ years, we've grown to 115 people and have successfully grown over 550 brands."
So what makes Hawke so different? Erik explains:
"The reason we stand out to small to medium-sized businesses is that we don't require a contract. And every agency owner told me that was impossible. Yet, we have not raised a dime, we have been profitable every year, significantly."
Hawke Media has three workplace mottos: get shit done, learn quickly, and be cool.
This direct and modern approach has helped situate Hawke Media among the most exciting ecommerce agencies today, and has earned it a reputation as one of the best companies to work for in the country.
Learn more about Hawke Media »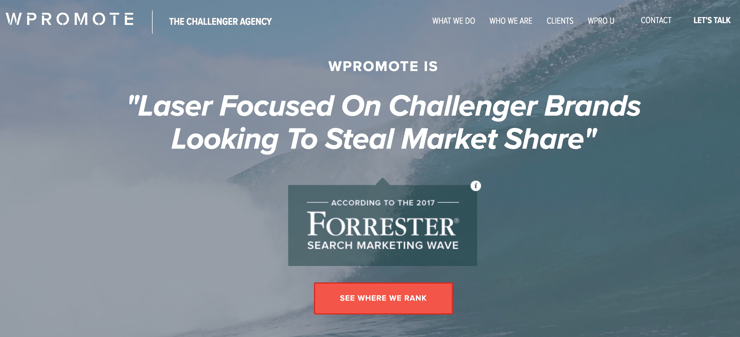 Wpromote is the largest independent digital advertising agency in the United States, and specializes in digital marketing and customer acquisition.
"We have a really strong focus on retail and ecommerce," explains Ashley Scorpio, Head of Partnerships at the agency.
The company has been in business for 16 years now, after modest beginnings as a one-man operation by Mike Monther from his dorm room at Dartmouth. Originally geared toward helping businesses with Adwords, Wpromote has grown to an industry giant, boasting clients such as Toyota, Verizon, Grubhub, and Forever 21.
"We were one of Google's first 30 partners. We also sit on their retail ecommerce advisory council as an agency, and we were named one of the only digital marketing agencies in the 2017 Forrester's Search Marketing Wave." - Ashley Scorpio, Head of Partnerships at WPromote
Wpromote is a comprehensive agency. Although its biggest service is search engine optimization, they break down their services to fit the needs of every client.
As Ashley explains, while some companies have an in-house marketing team and are only looking for select services, others want to outsource everything. Thus, Wpromote offers any individual service their client wants, with the common outcome that companies come back after a job well done.
"Overwhelmingly," says Ashley, "clients that come on with one service typically come back and add on another service because they're really happy with the results they're seeing."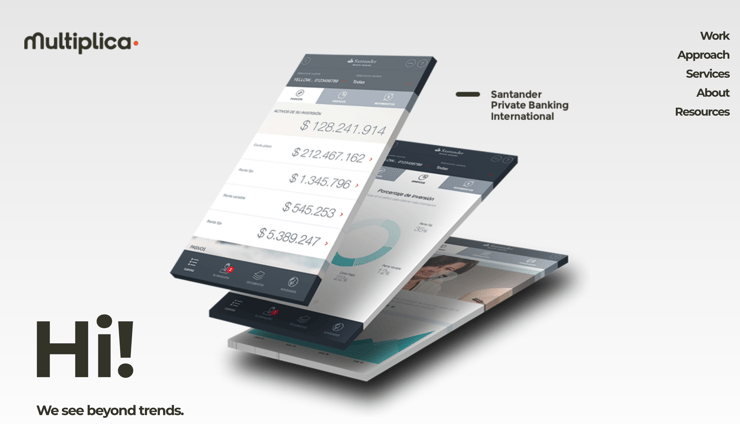 Multiplica is a 16-year-old digital agency that's growing fast, with 10 offices across the globe and hundreds of clients, and counting.
Reimagining digital marketing, Multiplica carefully crafts digital experiences to optimize conversion, offering UX design, data-driven UX testing by their own growth rate optimization experts, plus digital media and content strategy services. And with offices from Boulder to Barcelona to Buenos Aires, they're taking the global market by storm.
One of Multiplica's greatest assets is their dedicated team, who have their eyes on the hottest trends in the business – like Growth Strategist Danielle Schlowow, who keeps a close eye on what's coming up next in the industry.
"I've seen a lot of changes recently with how people are using retargeting," Danielle tells us, citing recent advances made with Facebook messenger helping reduce cart abandonment.
Ever forward-thinking, she's eager to see what the future will bring in regard to personalization:
"How can you increase the average value of your customer following that 80/20 rule? You know that 80% of your revenue is coming from 20% of your clients because they're loyal to you. How do you get them to buy more of what you're selling?" - Danielle Schlowow, Multiplica Growth Strategist
With experts like Danielle on board, Multiplica is sure to keep rising to the top.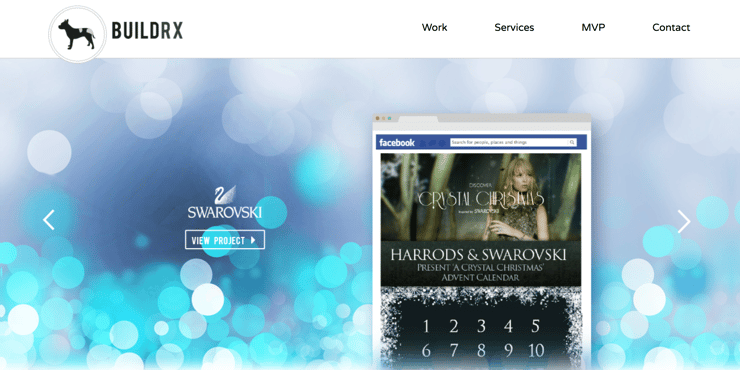 Anastasia Wegbreit cut her teeth in the marketing industry building Facebook apps. Now, 8 years later, her company BuildRX is a full service creative agency, with specializations in mobile, social media, and ecommerce.
"When we first started the agency, my work was almost 100% just building custom Facebook applications," Anastasia recalls. "But as the way to build Facebook applications changed (and as it has been deemphasized quite a bit), I realized that I had all these other engineers that were fully capable of potentially working with ecommerce platforms."
Because a lot of her clients were already in the retail sphere, the team was able to make a pivot easily, and for the last six years, she estimates that 80% of her work is now with ecommerce platforms.
BuildRX works with clients at all stages, but the most exciting thing for Anastasia right now is working with small, new companies, simply because she loves a good challenge.
"It's so much harder to get your first 10,000 likes on Facebook than it is to go from 1 million to 1.2 million. All those interesting challenges that come with helping a new business are fun because you're really in uncharted territory." - Anastasia Wegbreit, Founder of BuildRX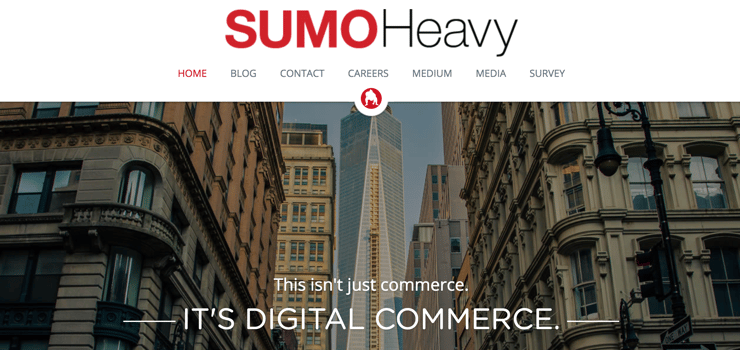 Next up is New York and Philadelphia based SUMO Heavy, offering tailored digital commerce solutions. With strategists, consultants, designers, and developers with decades of experience, SUMO Heavy helps ensure that businesses become profitable and stay that way.
"A lot of what we do is rescue jobs," says Bart Mroz, SUMO Heavy's CEO. "Coming in when platforms are bad and clients need some help, or coming in and looking at how the client can be more efficient, from a technology perspective, to staff, to making sure they're running at a proper level."
They work with clients both small and large, and mostly over the long term, working through complex problems and maintaining steady growth.
"One of our first clients is still with us 7 ½ years later." Bart points out.
The SUMO Heavy website itself is an invaluable resource, with a fantastic blog featuring stories on some of the most exciting and relevant topics in ecommerce today.
SUMO Heavy also hosts two daily podcasts so good that it would be criminal for anyone in the ecommerce business not to tune in.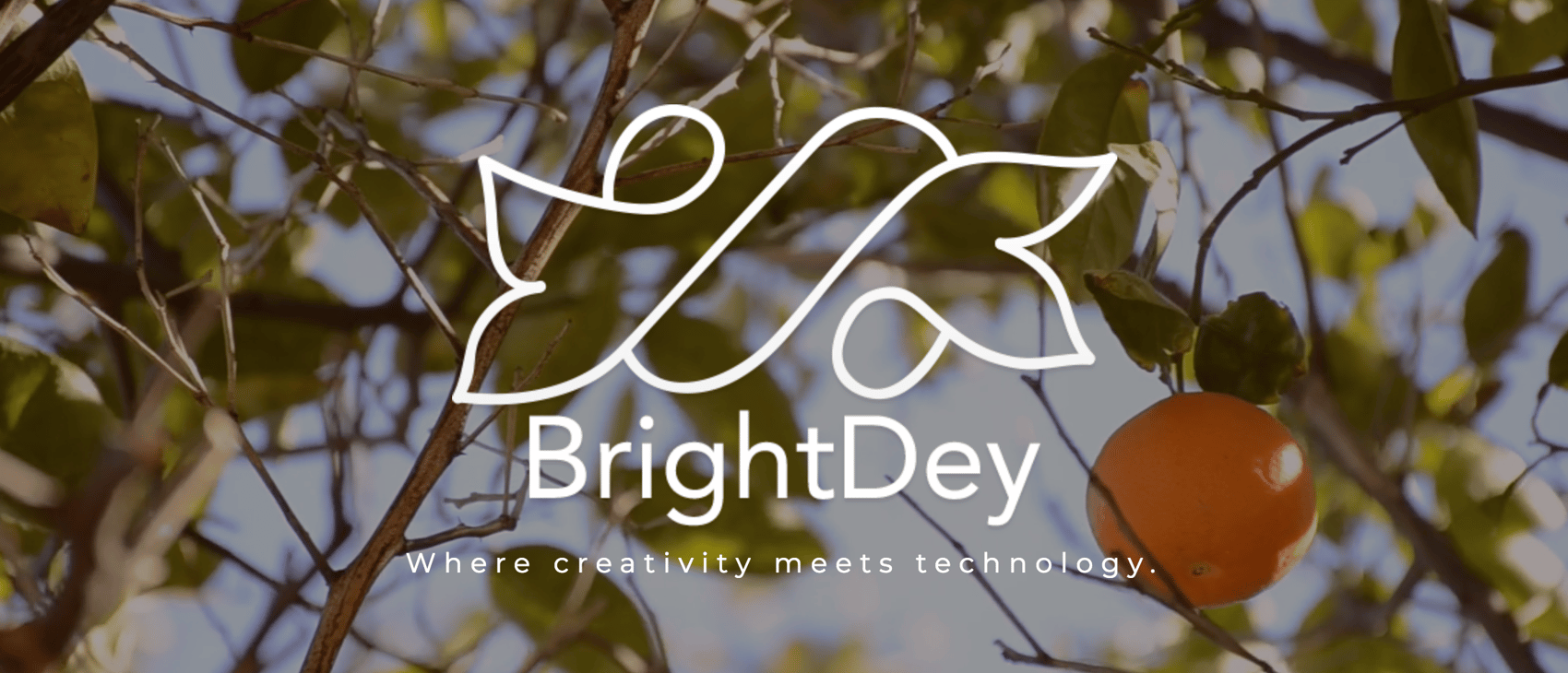 After tiring of working in the corporate world, dream team Antony and Ashley McGregor Dey set off on their own, founding BrightDey Marketing (previously Ecommerce CMO).
"We're essentially an agency, but we're not what you'd call a full service agency," explains Antony.
Instead, the pair focuses on strategy and execution, calling themselves "a good mix of creative and technology strategy."
"The best client for us is a store that's already established," Antony says.
Ideally, he explains, they aim for clients who have over a million in revenue each year, have a solid idea of who their customer is, and are now looking to expand. BrightDey sets out to produce long-term solutions that the company can one day manage on their own.
"We like to call ourselves chief marketing officers for hire. We'll come into the business and build out a lot of the workflow that the client can follow once we decide they don't need us anymore." - Antony McGregor-Dey, Co-Founder of BrightDey Marketing
Antony is on the technical side, making sites for the clients as well as helping with audience segmentation, while Ashley is focused on community strategy, voice and tone, customer experience, and community engagements. Ecommerce evangelists to the bone, they also have a few stores of their own, including homebody.fitness, and The Violent Vixen where they live out their entrepreneurial vision.
Learn more about BrightDey Marketing »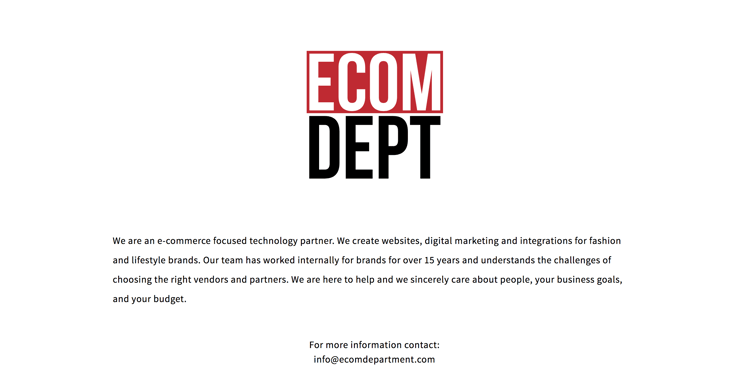 With a decade of experience in the ecommerce sphere, Ben Lau of Ecommerce Department helps companies who are looking to transfer from wholesale into digital commerce.
"It helps when people understand and embrace the technology piece of it, but if they don't, we go through the education process and show them statistics and all the different platforms. What you need to do to be competitive in the market is to embrace it." - Ben Lau, founder of Ecommerce Department
Part of what sets Ecommerce Department apart is Ben's objective to educate clients, even if that means that he doesn't get the job:
"One of the non-sales approaches I have is that you don't need to spend a penny, but I'll still talk to you forever and do what we need to do to educate you on the process. Whether you choose us or somebody else, I just want to be friends first and figure out the rest later."
Learn more about Ecommerce Department »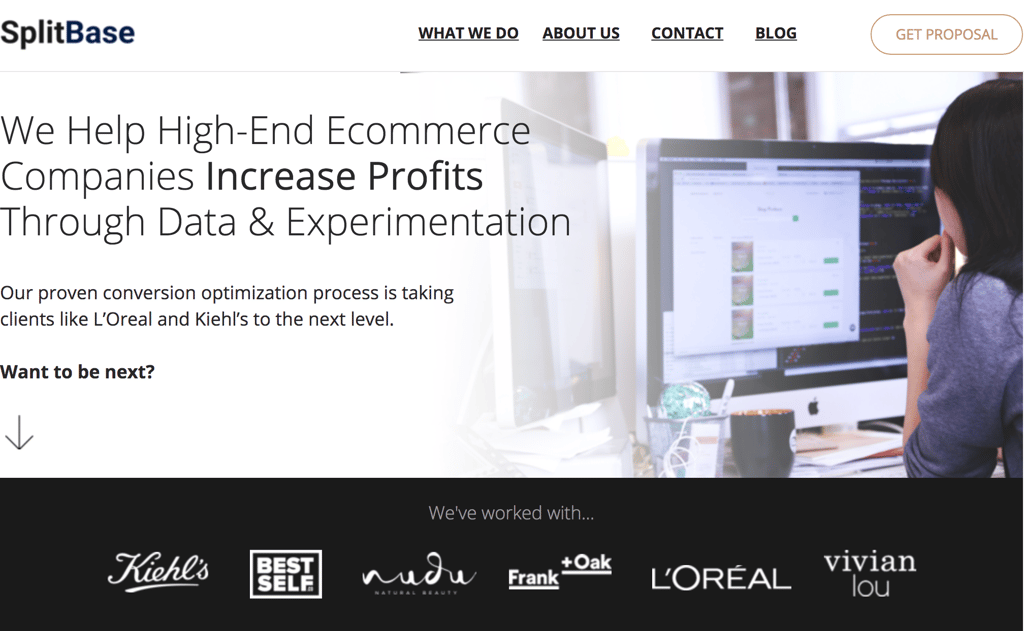 Already a conversion optimisation expert and business founder back in high school, Raphael Paulin-Daigle dabbled in several industries before starting SplitBase two years ago.
The company started out working with a variety of ecommerce companies, but has recently narrowed their focus to luxury companies exclusively, making them the only company solely focused on conversion optimization for luxury businesses.
"We help brands understand their customer, understand where money is leaking on their website, and figure out how to fix those leaks." - Raphael Paulin-Daigle, Founder of Splitbase
SplitBase performs continuous testing and optimization through a 180-day testing process that uses quantitative and qualitative data, plus psychology and UX/UI research to reveal and repair the places on the website that are losing money.
Then, they embark on a 40-day, comprehensive research process within your company meant to uncover the key points hindering conversions on your website. Lastly, they won't take off when the job is done, but stick with you to ensure that the decisions made and processes implemented have the desired effects.




"I started Tactile as a side project," admits Erika Velazquez Alpern, founder and CEO of Tactile and Former VP of Marketing and Communications for the New Republic.
"I was hosting dinners to bring women working across industries together to talk about challenges and build a sense of community," she explains, when something caught her attention.
She noticed that many of these women were also starting their own businesses. The dinners progressively turned into more of a consulting session aimed at supporting women-led businesses, and eventually into a business idea.
"That was the start of Tactile," she says, "To build a brand strategy marketing and communication agency that was really focused on changing the ratio within business."
Since their founding in 2015, Tactile has helped skyrocket a number of exciting new ecommerce brands, including Dripkit and Argent.
"We tend to attract category disruptors, people who are trying to flip models on their heads. At our core we really want to make sure that we're dedicating time to supporting women and people of color."
They have an early stage program that does just that, offering cost-effective services for early-stage companies run by women. With such a great mission and vision, we can't wait to see whose business Tactile will rocket to stardom next.
Stay informed and educated about trends and leaders in the ecommerce world by subscribing to Ecommerce Magazine.