Since Facebook took pre-check away on April 9th, marketers need to come up with better methods of acquiring Messenger subscribers. Gone are the days of users adding items to their cart and getting auto-subscribed to Facebook Messenger. Personally, I think this is a good thing!
My favorite strategies for acquiring Messenger subscribers include implementing a strategic pop-up experience, using paid spend to start conversations, and leveraging Facebook Custom Audience data for Sponsored Messages.
1. Pop-ups for Messenger Collection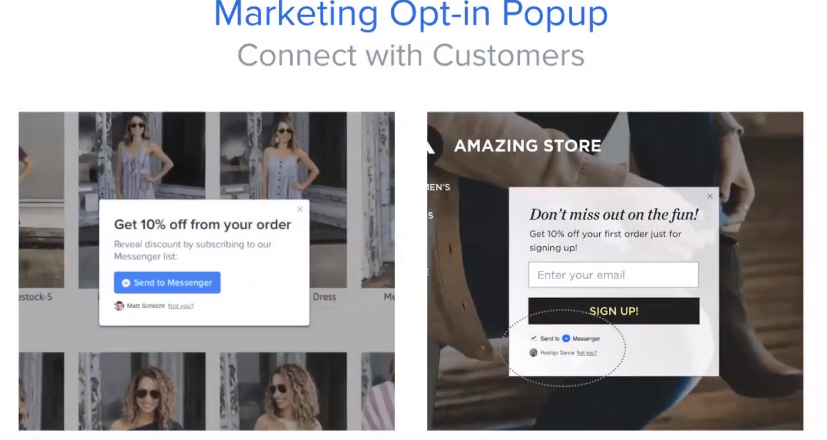 Wouldn't it be great if you can use existing email pop-up technology to capture an Email AND Messenger subscriber at the same time? I thought you'd never ask. Fear not! The future is now!
Implementing strategic pop-up experiences is a top Messenger acquisition method for 2019. I'm a big fan of using omni-channel marketing to create multiple touch points for the end user. If a user is ignoring an email, they may prefer engaging on Messenger. On the flip side, a busy on-the-go professional can choose to reject social media and absorb email content.
The Welcome Series is usually my top performing triggered email sequence for my eCommerce clients. It makes sense that a Messenger Welcome Series can outperform the Abandon Cart Series.
Similar to Pre-Check, if done incorrectly, you can really annoy your users. The reason why almost all eCommerce websites implement email capture pop-ups is because they work! Pull in your best performing email pop-ups and test adding a Subscribe to Messenger option.
Spend Money to Gain Subscribers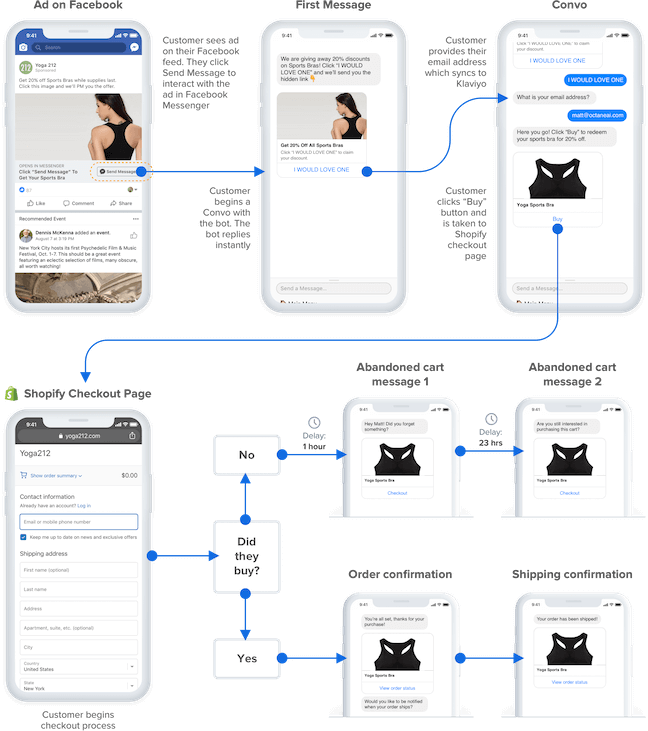 In all my conversations with Facebook, convincing advertisers to use paid media to acquire Messenger subscribers is their #1 priority for 2019. (Well that and use of video are 1a and 1b). If Facebook wants you to do something, it makes sense to give it a whirl.
With CPAs on Facebook rising across the board, Click-to-Messenger Ads can give you the edge you need in 2019. Instead of sending users to your website, you can keep the user in Messenger all the way through checkout.
Build Messenger sequences out of the Octane AI's platform and run prospecting tests using 1% LAL for conversions goal. Create LALs with your highest intent. I like to sync over my email segments directly to Facebook for these. An example of LALs to feature in your tests include:
Repeat Purchasers
Purchased at least once over time
Purchased high cart value
Add to Cart
Visited 3+ pages
Top 1 - 5% time on website
I personally haven't had much success with this method yet. The main reason is it's hard to put a revenue number behind paid Messenger acquisition methods. Similar to a Welcome Series in email, the success or failure of the campaign depends on how well your conversations perform on the backend. The analytics just aren't there to track ROAs with a Send to Messenger CTA.
As we get further into 2019, I'm expecting this to change. Facebook wants users to stay in their own ecosystem from acquisition to close. I'm expecting updated analytics to better track performance and provide the ability to browse and pay for products inside Messenger.
Sponsored Messages
Sponsored Messages also falls underneath the category of "doing what Facebook wants you to do". To recap: Facebook's goal is to keep you spending as much time and money on their ecosystem as possible.
Sponsored Messages differ from Click to Messenger ads in that Sponsored Messages can only go to people who have engaged with your brand on Messenger. Think acquisition for Click to Messenger ads and remarketing for Sponsored Messages.
For example, you can target website visitors who browsed products but did not take an add to cart action. You can build interactive conversations out of the Browse Abandonment event that allows the user to purchase the product without leaving Messenger.
The real power is leveraging Facebook's Custom Audience data to slice and dice segments to build conversations around goals. You can expect low CPMs and HUGE potential going into 2019. Conversational Marketing is in its infancy and there is tremendous opportunity to build highly engaging, revenue generating Messenger funnels.
The future of Messenger Marketing is looking extremely bright. It seems every month there is a new game-changing update for Messenger. In addition to Facebook Messenger, WhatsApp, iMessage, and Android Messages announced the opening up of their API to marketers this year.
We are only scratching the surface of the potential for Messenger. Get the edge you need in 2019 by building your subscriber base with strategic popups, Click-to-Messenger ads, and Sponsored Messages.
About the Author
Jason is the founder and CEO of QuaGrowth. QuaGrowth is on a mission to provide the world's most advanced email and messenger marketing solutions. We are a chatbot agency and email marketing agency located in Santa Monica, CA.